It's a trick question of course, but if you grew up in North America and think of pumpkin as being only suitable for carving jack-o-lanterns at Halloween or making into pie for Thanksgiving, then you should definitely read on.
The truth is that the answer depends completely on where you live. Of course, there is a type of round, orange-fleshed winter squash that's called pumpkin all over North America and is associated with Halloween or Thanksgiving. But in many parts of the world, including Australia, New Zealand, Asia, and parts of Europe, the entire category of winter squash is called pumpkin. Sometimes the name of the particular squash variety precedes the word pumpkin (such as Kabocha Pumpkin or butternut pumpkin) but other times the word pumpkin alone is used to mean any winter squash.
If you'd like to learn more about winter squash, Culinate recently posted a Winter Squash glossary, with the eight most common types (in North America) as well as a suggested recipe for each type. Wikipedia also has a good list of winter squash varieties. Winter Squash is distinguished from summer squash by having hard skins which allow the squash to be stored indefinitely (or over the winter, which is where the name came from.) Although that distinction is less meaningful now that most types of squash are available year round, it's still true that fall is the season for winter squash.
Of course for many Blogher readers, the mention of pumpkin at this time of year brings to mind sweet holiday recipes, but the truth is that there are an endless variety of interesting things that can be made from pumpkin, no matter which definition you're using. In fact, I think the wonderful way winter squashes combine with savory or sweet flavors is one reason they're so popular. Maybe you can expand your pumpkin horizons with one of these interesting ideas for using pumpkin.

The minute I saw this Grilled Kabocha Pumpkin and Asian Pear Salad from Rachael at Fresh Approach Cooking I wanted to try it. Kabocha is a large winter squash that's becoming very popular, and the folks at Culinate say the taste is similar to Butternut or Acorn Squash.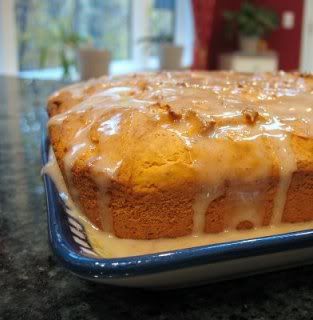 Two Ingredients Pumpkin Cake with Apple Cider Glaze from Big Red Kitchen (pictured above) is developing quite a following, and I discovered this recipe through Noble Pig. In a dessert recipe that comes from North America, pumpkin probably means sugar pumpkins, the type sold in grocery stores at Halloween, but many cooks feel the best pumpkin for recipes comes in a can, and that's what's used here.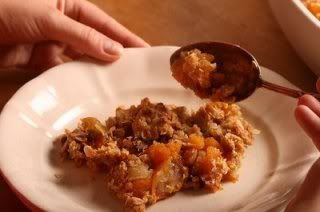 Pille at Nami Nami (in Estonia) is covering all her bases by listing "pumpkin or butternut squash" as an ingredient in her Pumpkin and Apple Crumble (pictured above.)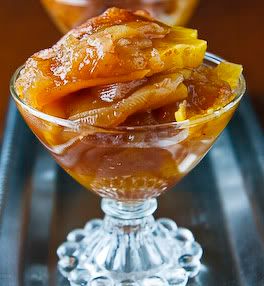 Susan from Fat Free Vegan Kitchen created this Apple Pumpkin Delight for her daughter who likes pie but not the crust. Even though she's in Mississippi and the recipe title says "pumpkin" Susan shows us a photo of the Cushaw squash she used in this recipe. I've never seen this type of winter squash, which Susan says is grown almost exclusively in the southern U.S.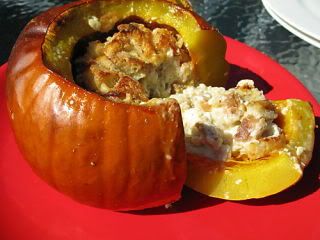 Finally, from famous baking cookbook author Dorie Greenspan's delightful blog comes an interesting recipe for Pumpkin Packed with Bread and Cheese (pictured above.) Dorie says this is a recipe-in-progress, but I'd say the first attempt looks rather heavenly.
So what do you think of when someone says pumpkin? And if you have a wonderful sweet or savory pumpkin recipe for us, please share your link in the comments.
Kalyn Denny writes about food and at BlogHer.com and shares her passion for cooking at Kalyn's Kitchen where she loves winter squash or pumpkin, whatever you want to call it. Kalyn recently wrote about How to Peel and Cut Up a Butternut Squash, and made Roasted Butternut Squash with Lemon, Thyme, and Parmesan.
This is an article written by one of the incredible members of the SheKnows Community. The SheKnows editorial team has not edited, vetted or endorsed the content of this post.
Want to join our amazing community and share your own story? Sign up here.