Quick, name the regional cuisines of the Unites States, distinctive styles of food indigenous to geographic and cultural areas. Is New Mexico cuisine high on the list? It deserves to be, its call is seductive.
New Mexican cuisine is influenced by the food traditions of Mexico but stands apart.
A reader wrote to the Amateur Gourmet: "New Mexico Mexican food is unlike any other of the sub-genres of Mexican food. I grew up in Texas eating Tex-Mex with cheddar cheese in the enchiladas smothered in Wolf Brand chili or green tomatillo sauce. I now live in California, and I have experienced Baja Mexican food with fish tacos in corn tortillas and anaheim chiles in abundance. But nothing -- let me repeat, NOTHING -- compares to the delights of a blue corn enchilada prepared with queso fresco and smothered in green chile that will leave your lips pleasantly burning and senseless." ~ read Lacy Waxes Lyrical on New Mexico from Amateur Gourmet
New Mexico is home for two food bloggers, Karina the Gluten-Free Goddess herself of Karina's Kitchen and Karen Coates of Rambling Spoon whose homebase is New Mexico as she travels the world for Gourmet.
Karina shared her list of New Mexico specialties, ones sure to inspire a sudden hunger for chiles.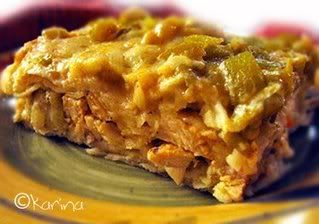 Photo by Karina Allrich
New Mexico Green Chile Sauce ~ "my vegetarian roasted green chile sauce (traditional has pork)"
Summer Calabasitas ~ "a New Mexico specialty side dish"
Chicken Enchiladas New Mexico Style ~ "layered not rolled, with salsa verde"
Eggs Diablo on Soft Polenta ~
Be sure to explore Kari's collection of her Best New Mexico Recipes, home to plenty of recipe inspiration.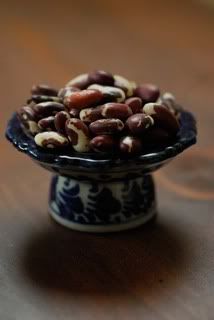 Photo by Karen Coates
At the Rambling Spoon, Karen shares her recipe for Herbal Andasazi Beans, a New Mexico specialty. Now that she's settling into New Mexico for much of the year, we'll look forward to more!
What do other food bloggers think about the special food of New Mexico?
"The first time I had posole was my first visit to Santa Fe, New Mexico. That was about about 20 years ago, I'd guess. It was a culinary tour, and the guide packed in 4 days of day and night eating, shopping, museums, tours and more food. It was heavenly fun. The food was out of this world. If you've ever had a food epiphany, then you can relate to what I felt on that trip. I realized I was truly enamored with Southwest food." ~ learn more about what it's like to visit New Mexico and get the recipe for New Mexico-Style Posole from Tasting Spoons

photo by photo by MsAdventures in Italy
"Here, I find scorpions floating in the toilet, I chase cottontail rabbits with my camera and never get close enough, a roadrunner perches on the dividing wall in the backyard, and I am surrounded by masses and masses of chiles." ~ read New Mexico Chiles & Rocky Sunrises from Ms Adventures in Italy, who visits her mother in New Mexico
"The past week has been icy and cold, rainy and wintery. Completely abnormal for Austin. But it made me think of places where cold is normal, and snow comes every year, and fireplaces are lit with the smoky aroma of pinon wood … it made me think of New Mexico. Invariably, when I think about New Mexico, I think about food. Roasted green chiles and thick sopaipillas, red enchiladas and roasted pinon nuts." ~ read Missing New Mexico from Poco-Cocoa
Matt Bites is a fan of Hatch chilis from New Mexico. "... when it comes to peppers I have learned why Hatches can't be beat. So, let's see: more even heat, thicker walls, edible seeds, unmatchable fresh, green chile flavor, the best rellenos, easy to roast and skin, the list goes on." ~ read Down the Hatch from MattBites
"But my favorite New Mexican dish, hands down, was Carne Adovada. A traditional New Mexican dish, it is meat—most often pork—slow cooked in adobo sauce. ... It was falling apart tender and coated in an almost velvety red chile sauce, not buried under it as many New Mexican dishes seemed to be. And it had a wonderful blend of flavors with just the right amount of heat." ~ read Taste of New Mexico: Carne Adovada from Blue Kitchen
Other food bloggers who are cooking New Mexico style:
ChileFire ~ New Mexico Stuffing
Crunchy Culinary Capers ~ Smithsonian New Mexico Apple Pie
The Pragmatic Chef ~ New Mexico Pork Chile with Corn Risotto
BlogHer food editor Alanna Kellogg returned from Santa Fe obsessed with finding a recipe for Green Chili Burgers.
This is an article written by a member of the SheKnows Community. The SheKnows editorial team has not edited, vetted or endorsed the content of this post.
Want to join our amazing community and share your own story? Sign up here.