This article was written by a member of the SheKnows Community. It has not been edited, vetted or reviewed by our editorial staff, and any opinions expressed herein are the writer's own.
A few weeks ago, while showering, I started to think about pizza. Everyone does this right?  Except that sometimes I have an exotic itch that needs scratched. This time it centered around balsamic vinegar. I can't get enough of the stuff, especially as a dip for artisan bread. It would only follow that it should work with the right type of pizza, no? Oh yeah, let's get some bacon in there too, right? Obviously, I assumed that Pinterest could take care of this for me?
Except no, because sadly I found that where such a recipe should exist, Pinterest remained silent.
At this point I realized there was a big, gaping whole in the pizza world that I now felt morally obligated to fill. So today I would like to introduce you to the pizza of your dreams. This is probably the MOST amazing (and easily made) alternative pizza ever, straight from the Jenerally Informed Test Kitchens. I am in love with it and I think you just might be too.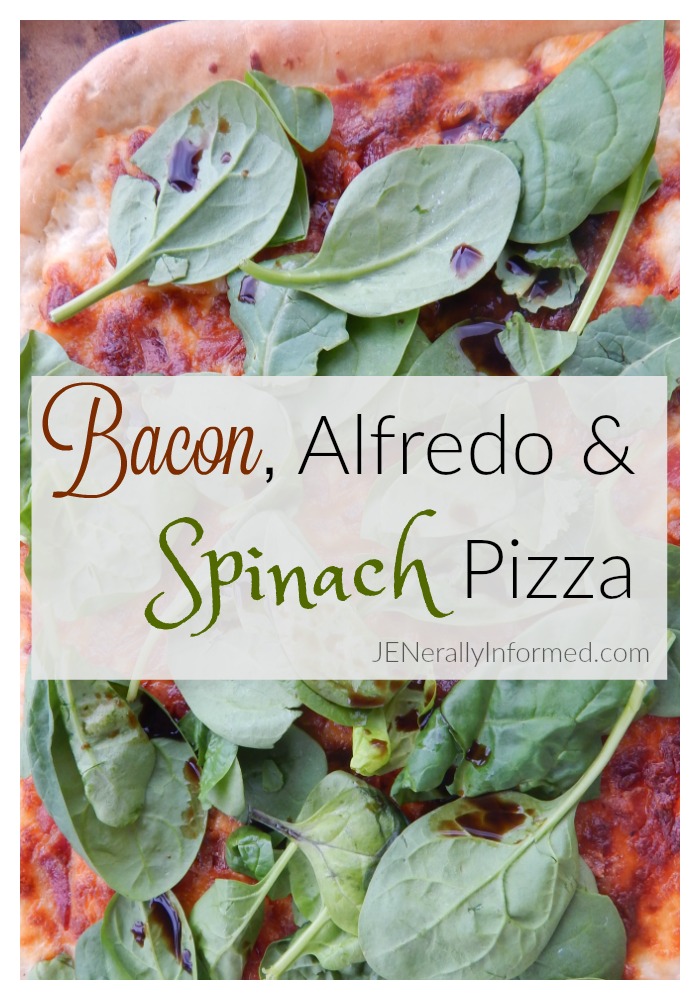 Ingredients:
Pizza dough (I used the pre made Venice Bakery brand from Sprouts)
1 jar of your favorite alfredo sauce
8 ounces of mozzarella cheese
5 pieces of cooked and crumbled bacon pieces
Fresh spinach
Balsamic vinegar

Directions:
Defrost/ pre-made pizza dough according to instructions.
Preheat oven to 400 degrees.
Thirty minutes before working with dough, place the dough ball in a greased bowl and cover with plastic wrap for 30 minutes.
Roll out dough and place on a lightly greased pizza or baking stone.
Spread evenly a good portion of Alfredo sauce over the top of the dough. Making sure to leave a small edge all around the pizza for crust.
Cover generously with mozzarella cheese.
Spread bacon crumbles pieces.
Cook in preheated oven for 20 minutes or until the cheese is bubbly and the crust is golden brown.
Let cool for 5 minutes.
Top pizza with fresh pieces of spinach.
Drizzle the spinach with balsamic vinegar.


Enjoy!
Queen Mom Jen