In our house I only make breakfast on the weekends. I try to make something everyone likes at least one day out of the two days. Its hard when you have a child who doesn't eat eggs. He is not big on french toast either. So I really wanted new things that everyone would eat.
This morning I got up and the fridge was pretty bare!! Saturday is shopping day for me!! I shop for the week. This time I didn't have anything really. Which sucks sometimes! They could have had cereal but they get that Monday through Friday unless they eat school breakfast.
I decided to see what I could find on pinterest. First I saw muffins but I really didn't have anything to make them not plain old muffins. Didn't have enough eggs for three people, so I just skimmed past anything with eggs. Then I found a pin that used crescent rolls. Which I just happen to be saving for no reason at all!!! I thought lets give it a try!!! Whats the worst that can happen? They hate it and I never make it again then they have to have cereal.
Its so simple!!! So delicious that I didn't even get one!!! The hubby ate 4, our daughter ate 2 and our son had 2. So mom was left with cereal, which I did not eat. Even though I have Frakenberry cereal!!!
Let me stop wasting time and give it to you!!!
Cinnamon Crescent Delights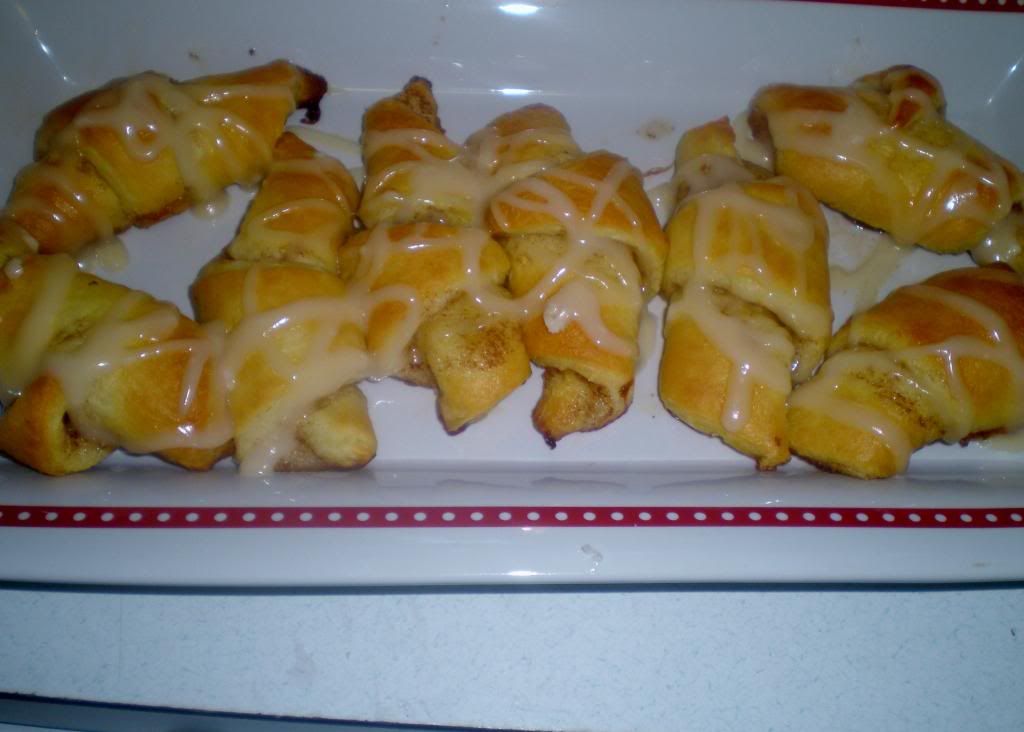 First you need to make the cinnamon sugar butter:
In a bowl mix together:
5 tablespoons of soft butter
1/4 cup of sugar
2 1/2 teaspoon of cinnamon
Now preheat oven at 375 degrees
Grease cookie sheet
Open Crescent rolls
Lay them flat
Stay with me now, don't want to lose ya!!! lol
Spread butter evenly on the crescent roll
Then roll them up like you normally would do!!
Bake for 10 – 12 minutes.
While the crescents are baking up,
Its time to make the glaze.
In another bowl mix together:
2 tablespoons of melted butter
1/4 cup + 2 tablespoons of powder sugar
1/2 teaspoons of vanilla
After you mix it together put into a sandwich bag.
After the crescent rolls are done
Cut a small corner off the sandwich bag
And drizzle glaze over top.
Then Enjoy!! At least that's what they family would say
Tomorrow morning is breakfast for Sean and I...  Sausage gravy and biscuits!!! So Good!!!
But I'm not going to release that  one for a while. Tomorrow I'll let you know how tonight's dinner goes.
BUFFALO CHICKEN QUESADILLAS!!!
Till tomorrow, Hope you have a great Saturday night. Don't forget to check me out and follow me on Pinterest.com
http://pinterest.com/hmh4ever/
This is an article written by a member of the SheKnows Community. The SheKnows editorial team has not edited, vetted or endorsed the content of this post.
Want to join our amazing community and share your own story? Sign up here.