{images taken by yours truly, and found
here
}
Ever since we had a baby, we don't often go out to restaurants. Actually, scratch that. Since having a toddler, we don't brave the restaurant scene. Jack considers a restaurant to be the equivalent to a playground, and thinks being strapped in a highchair is like a punishment. So, I have focused a great deal of my domestic efforts on cooking fantastic meals at home. I've completely ruined and botched my fair share of recipes. I've been overwhelmed, scattered, frustrated, and disappointed. But, I never gave up on my goal to put a well-balanced, home-cooked, and delicious-tasting meal on the dinner table. I find that my food brings us closer together. It makes my husband satisfied after a long day and makes him long to come home. It provides me with instant gratification, reward, and passion. It makes dinner memorable and something we look forward to.
And let's face it: when you're eating good food, you're happy.
I'm always looking for culinary inspiration for my cooking style, which I consider to be comforting but health-conscious. My go-to recipes come from
Real Simple
,
Cooking Light
, and 
Everyday Food
. I love to photograph my mouthwatering creations and share on my food blog, accessible from the "Eat" tab up top or
here
. So go ahead and look around a little. Take a chance and try something new. Make it a special occasion and treat yourself or your family to something different and unique.
Surprise and challenge yourself. 
And if all else fails, just perfect 
meatloaf
and your husband/boyfriend/roommate/brother/sister/family will love you forever.
1. This series of cookware is rocket science in my book. It will change the way you cook food, if you've never used high-quality non-stick pans.
2. I don't have one quite this nice, but a dutch oven (or oven-proof skillet with lid) is a must.
3. One of the best cookbooks ever. Pictures for every recipe, fast, easy, and fresh.
4. I almost always steam my fresh veggies using this amazing al-clad steamer. It retains their nutrients better than other cooking methods.
5. This potato ricer ensures smooth and creamy mashed potatoes. 
6. When you are baking breaded food that's meant to be super crispy and crunchy (like chicken fingers), place on a cooling rack fitted to a baking sheet in the oven when cooking. It makes sure the underside of the food remains crispy.
7. A roasting rack can be used for more occasions than just Thanksgiving. Roasting a whole chicken is easy and makes the perfect weeknight dinner.
8. I just adore my Kitchenaid Stand Mixer for baking, and think this color is so happy!
9. A mini-food processor comes in handy for pestos, sauces, salsas, and so many other things!
10. I have one of these Smart Stick immersion blenders and they are amazing for soups and purees.
Visit me & my blog about motherhood, life on the coast of California, food,
style, travel, and more!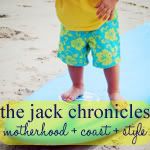 This is an article written by a member of the SheKnows Community. The SheKnows editorial team has not edited, vetted or endorsed the content of this post.
Want to join our amazing community and share your own story? Sign up here.