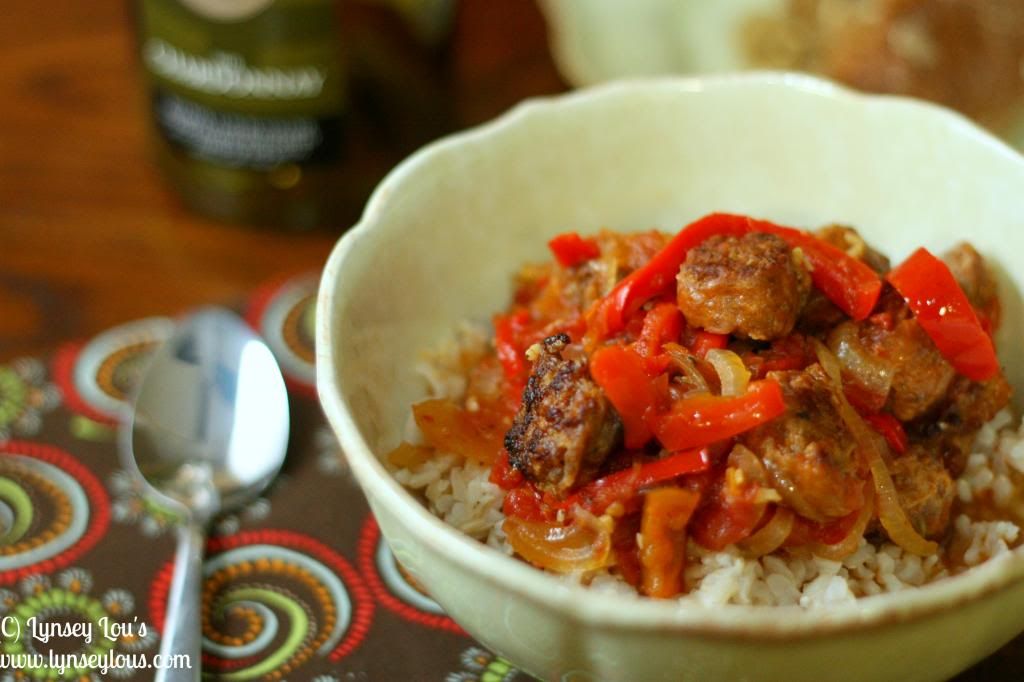 Sausage, peppers and onions.  Three very simple ingredients, that when combine pack huge flavor.  Since sausage is full of spices and seasonings that adds incredible flavor to this recipe.  The sausage is sliced then browned before being added to the slow cooker, and this step helps to enhance and add more flavor to the overall recipe.  Onions and peppers are sliced and added to the slow cooker along with canned tomatoes, garlic and wine (you'll even have leftovers so you can have a glass with your meal!  As if you need an exuse) and then cooked slowly to perfection.
The end result is nothing less than incredible.  The sausage is delicious, the onions and peppers are soft and tender. Simply amazing.  We enjoyed this recipe in numerous forms during the week; over rice, over pasta and even on a toasted hoagie bun with melted provolone cheese.  This recipe is the perfect way to feed your family something easy and delicious and it's a great way to prep food once and serve it in various ways throughout the week. 
Ingredients:
1 Tbsp olive oil
2 lbs Italian sausage
3 Medium (2 large) bell peppers
2 Large onions
6 Cloves garlic, minced
1 (15oz) Can crushed tomatoes
1 (15oz) Can fire roasted tomatoes
3/4 Cup dry white wine
1 Tbsp Italian seasoning
Salt and pepper, to taste
Directions:
Slice sausage into 1-inch thick pieces (if the casings are thick, remove casings before slicing). Place olive oil in a large skillet over medium heat.  Add the sliced sausage, being sure not to overfill the pan, and cook through, all sides should be brown, place on a papertowel lined plate and set aside.  Repeat process with remaining sausage. Meanwhile, slice bell bepper into strips and place in crockpot.  Halve and slice the onions and place on crockpot.  Top with the cooked sausage.  Add the crushed tomatoes, garlic, wine, Italian seasoning and salt and pepper.  Turn crockpot on low and cook for 6-8 hours.
Serve over pasta, rice or serve on a hoagie bun with melted cheese.    
   
Recipe source: adapted from I Was Born To Cook
This is an article written by a member of the SheKnows Community. The SheKnows editorial team has not edited, vetted or endorsed the content of this post.
Want to join our amazing community and share your own story? Sign up here.