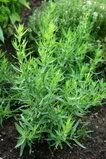 When I started my series on Cooking with Fresh Herbs by featuring cilantro, I knew there would be some cilantro haters. I didn't want to discriminate against people who have the anti-cilantro gene, so I asked for comments about what kind of fresh herb people would like to feature next. I was happy when Susan from Fat Free Vegan Kitchen asked for ideas using fresh tarragon, since it's something I've been absolutely passionate about ever since I first tried it last summer. I do think tarragon is a lot less well known than many fresh herbs that are grown or used in cooking, but if you haven't used it, I urge you to give it a try in one of these wonderful tarragon recipes. You just may fall in love with tarragon the way I did.
There are several types of tarragon that can be used in cooking, but French Tarragon is favored by most cooks. This is the type that's used in Bernaise Sauce and tarragon vinegar, and is probably the plant you'll find for sale at your local garden center. The plant can't be started from seeds, but it's relatively easy to get established from a small plant. Even in Utah where winters can get really cold, French tarragon grows as a perennial, which means you'll only have to buy the plant once. If anything, your French tarragon plant will probably get to be larger than you want, so cut it back often. I discovered last summer that you can freeze fresh tarragon, and then you'll have some to use all winter.
The two other types of tarragon are Russian Tarragon (which can be grown from seed, but is milder and slightly bitter in flavor) and Texas Tarragon (a perennial plant also called Mexican Mint Marigold.) I know that some people like Russian Tarragon as a leaf added to salads, but I haven't tried either of these other types.
French tarragon has a strong flavor and fragrance, and a very small amount will usually be enough to flavor a dish. The flavor is similar to basil, but tarragon is less peppery and a bit more anise flavored, with a sweetish after taste. It can be used raw or cooked, but when it's cooked, tarragon is similar to basil and cilantro in that it should be added towards the end of the cooking time.
All these recipes are intended for French tarragon, but if anyone has experience substituting one of the other types, let us know about it in the comments. If any BlogHer readers have a favorite way to use fresh tarragon, please share the link or recipe in the comments. I'd also love to hear what type of herb people would like to learn about next.
Tarragon with Chicken
Tarragon Cream Chicken from Gastronomy Domine
Lemony Chicken Salad with Tarragon from Champaign Taste
Grilled Chicken with Tomato Tarragon Sauce from Simply Recipes
Chicken Salad with Fresh Tarragon and Peas from Kalyn's Kitchen
Chicken Tarragon Cous-Cous from Anne's Food
Braised Chicken with Tarragon Cream from Thyme for Cooking
Tarragon with Eggs
Tarragon Omeletta from The Perfect Pantry
Mushroom and Asparagus Egg Salad with Tarragon Aioli from Wild Thyme Kitchen
Asparagus Custard Tart from Kitchen Parade
Tarragon with Fish
Tarragon Tuna Melt from Simply Recipes
Angel Hair Pasta with Tarragon-Parsley Pesto and Seared Scallops from Cook (almost) Anything At Least Once
Pan-Seared Salmon on Spinach in Tarragon Sauce from Closet Cooking
Tarragon Shrimp Couscous Salad from Whole Grain Gourmet
Tarragon in Sauces
Tarragon Cream Sauce from Blog From Our Kitchen
Pork Medallions with Tarragon-Mustard Sauce from Blue Kitchen
Tarragon in Soup
Creamy Lima Bean and Tarragon Soup from Je Mange la Villa
Cream of Celery Soup with Fresh Tarragon from Christine Cooks
Tarragon with Sweets
Chocolate Tarragon Biscotti from Calendula and Concrete (and that's Krista's great tarragon photo at the top of this post too.)
Strawberry-Tarragon Sorbet from Habeus Brulee
Strawberry Shortcake with Tarragon Cream from Dessert First
Chocolate Tarragon Cupcakes with Tarragon Cream Cheese Frosting from Cupcake Bakeshop
Tarragon Cupcakes with Vanilla Bean Buttercream from Vanilla Garlic
Tarragon with Tomatoes
Sauteed Gnocchi with Tarragon-Tomato Sauce from La Tartine Gourmande
Tarragon Upma with Tomatoes, Olives, and Lotus Seeds from Jugalbandi
Rigatoni with Hazelnuts, Tarragon, and Tomatoes from Je Mange la Ville
Tarragon with Vegetables
Tarragon Pickles from What Did You Eat
Baked Peas with Tarragon, Yogurt, and Pistachios from 101 Cookbooks
Roasted Mushrooms with Tarragon Vinaigrette from Kalyn's Kitchen
Broccoli and Cauliflower Salad with Lemon, Dijon, and Tarragon Vinaigrette from Kalyn's Kitchen
Eggplant and Goat Cheese Sandwiches with Tomato Tarragon Sauce from What Did You Eat
Fried Leeks with Tarragon Vinegar from Gluten-Free Bay
Carrot Soup with Orange and Tarragon from Food and Other Musings
Tuesday Night Tarragon Bean Mash from Eating Out Loud
Brussels Sprouts with Chanterelles, Tarragon, and Cream from Cookthink
Steamed Artichokes with Tarragon Salsa Verde from Well Fed
You can find even more Tarragon Recipes by using Food Blog Search
(Edit - You can use the tag Cooking with Fresh Herbs to find all the herb posts in this series.)
BlogHer Food Editor Kalyn Denny also blogs at Kalyn's Kitchen where her most recent tarragon experience was Sauteed Chicken Breasts with Tarragon-Mustard Pan Sauce.
This is an article written by a member of the SheKnows Community. The SheKnows editorial team has not edited, vetted or endorsed the content of this post.
Want to join our amazing community and share your own story? Sign up here.