This article was written by a member of the SheKnows Community. It has not been edited, vetted or reviewed by our editorial staff, and any opinions expressed herein are the writer's own.
Say hello to Dara Michalski, she's a Canuck (that is to say, she's a Canadian) and she's a cook. That's makes her the Cookin' Canuck. I think you'll love her food blog!
THE BLOGGER
Name – Dara Michalski, otherwise known as Cookin' Canuck
Hometown – Utah, though I grew up in Vancouver, Canada.
Day Job – "My husband and I are consultants for families who wish to set up intensive behavioral programs for their children with autism."
Sharing Your Table – "I cook for my family virtually every night and we invite friends whenever we can. My husband and kids are very appreciative and reliable taste-testers and I feel lucky that my two young boys have such adventurous palates."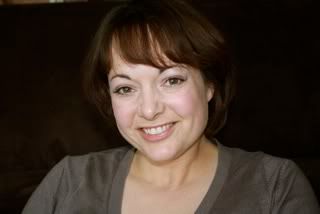 THE BLOG:
About the Name – "Canuck is another word for a Canadian. My nationality is such an integral part of who I am, so I wanted to give a little nod to my homeland."
First Post – "I started blogging in April 2009."
How Your Blogging Has Changed, Then vs. Now – "I would like to think that my photos have improved –- let's hope so! When I first started the blog, I included short introductions to the recipes. Now, I find that I really enjoy building an interesting opening paragraph or two, usually with a personal anecdote. It's as though I'm revealing a little more of myself with each post."
How You Define Your Site – "Recipe blog"
"Elevator Description" – "The recipes on Cookin' Canuck are easy enough for a weeknight meal, but impressive enough for entertaining. Each one is accompanied by step-by-step photos to make cooking a tasty meal as effortless as possible."
Standing Out from the Crowd – "Original and do-able recipes, good step-by-step photos, and interesting writing."
"Hobby Blog" or Career Path – "It definitely started out as a hobby blog, but since becoming a part of BlogHer, I have really enjoyed the extra income. I have come to relish the process of developing recipes and writing the blog posts, and am thrilled to find an outlet for my food obsession."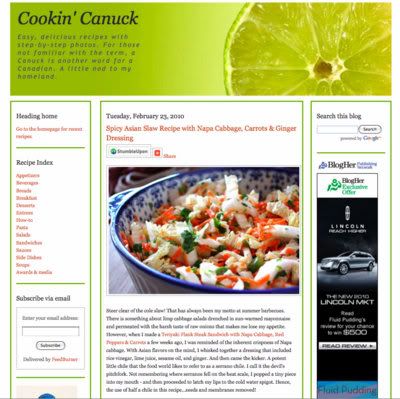 TECHNICAL STUFF
Blogging Platform – Blogger
Ad Networks – BlogHer and Platefull ads, plus Google ads on RSS feeds and printable recipe pages
Why These – "Many talented and reputable bloggers are part of BlogHer and I wanted to be a part of this knowledgeable group. I am also lucky to be able to learn from the ever-generous Kalyn Denny of Kalyn's Kitchen."
STATS
Statistics Package – Google Analytics
Success Measurements – Pageviews, time on site, and bounce rate, as well as Alexa ranking.
Tools to Attract Visitors – "I actively use social media, such as Facebook and Twitter. Each of my posts is submitted to the food photo sites, such as Foodgawker and Tastespotting."
Reader Profile – "There really appears to be a good mix of fellow food bloggers, people looking for easy meals to fix for their families, and others who have the same passion for food as I do."
POSTS
Posting Frequency – Every other day.
Favorite Post This Year – "As for the story behind the recipe, it would have to be Brown Butter Chocolate Oatmeal Bars, in which I talked about the Olympics being held in my hometown."
Surprisingly Popular – Family Crockpot Applesauce, Chicken Corn Potato Chowder and Rick Bayless' Smoky Peanut Mole
Deciding What to Post When – "I take into account a number of factors: seasonal ingredients, special occasions, and weekday meals. For example, on Super Bowl Sunday, I assumed that many women would be surfing the web while the game was on, so I posted a sweet treat that morning – Reese's Peanut Butter & Chocolate Cheesecake Bars."
Recipes That Don't Work Out – "If I feel that the recipe has promise, I remake it as many times as necessary, making changes until it suits my palate. Others simply get thrown into the garbage."
Time Spent on Posts – "Preparing the post -– photo editing, writing, and formatting –- takes one and a half to two hours. The time for cooking and photographing simply depends on the complexity of the recipe."
PHOTOS
Camera & Lenses – "Canon Rebel Xsi, with the lens that came with the camera (18-55mm). I hope to be able to buy the 50mm/1.8 lens soon."
Location – "Most of my step-by-step photos take place in the kitchen, near the window. The final photograph is taken in the living room, which gets great mid- to late-afternoon light."
Photo Style – "I like the food to look as though it's ready for someone to dig right in. That's why I'll usually include a napkin and/or utensil."
Personal Photo Trick – "Foam core boards are great for reflecting light onto areas of the food that are a little dark."
RECIPE INSPIRATION
Sources of Inspiration – "The inspiration for my recipes come from a variety of places – my family, other food bloggers, cookbooks, epicurious.com, and magazines. I pretty much covered all of the options, didn't I?"
FRIENDS
Blogs in Your Feed Reader – "There are about 20 blogs that I read every post for. Then there are many others that I get to every week or so."
Three Sites You Love, for Inspiration – Kalyn's Kitchen, David Lebovitz and Tartlette
Three Sites New to You – Vanilla Garlic, Asian Dumpling Tips and Not Without Salt.
Three Sites You Comment On Regularly – Smitten Kitchen, Simply Recipes and Gourmet Fury
Three Bloggers Met in Person – Kalyn from Kalyn's Kitchen, Two Peas and Their Pod and Barbara Bakes plus several other wonderful Utah bloggers
COMMUNITY
Community Contributions – "I have met so many incredible people, who have been so generous with their time and knowledge, since starting my blog. I try to pass that generosity on to other new bloggers whenever I can. If someone asks me a question about formatting their blog or photography, I try to answer their questions as thoroughly and quickly as I can."
SOCIAL MEDIA
Cookin' Canuck on Twitter
Cookin' Canuck on Facebook
Cookin' Canuck on BlogHer
Cookin' Canuck on Flickr
BlogHer food editor Alanna Kellogg is half Canadian and cheered for Team Canada during the Olympics while munching on a favorite Canadian treat, butter tart bars.