I made this cake a few days ago specifically for Breakfast. I realize eating cake for Breakfast isn't the healthiest option but I told myself it was alright because it's a "Cinnamon Roll" cake.
And cinnamon rolls are a breakfast food. See how I got away with it?
Plus after seeing variations of it on Pinterest for weeks I didn't want to control myself any longer.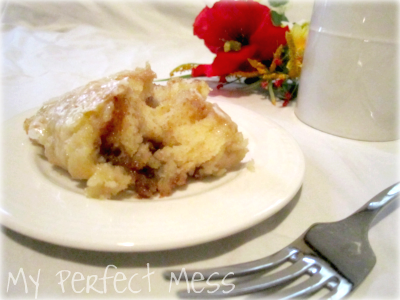 So this for breakfast cake was delicious. If you are looking for the texture of a cinnamon roll then you'll need to go ahead and whip up some cinnamon rolls. The texture isn't even close to a cinnamon role and for a cake it's still a little off. But the sugary buttery goodness makes up for the unfamiliar texture.
I mean what could really go wrong with sugar and butter?
Cinnamon Roll Cake Ingredients:
For the Cake:
3 cups of Flour
1/4 tsp. of salt
3/4 cup of sugar
3 tsp. Baking Powder
1 1/2 cups milk
2 eggs
2 tsp. vanilla
1/2 cup melted butter
For the Topping:
3/4 cup butter, softened
1 cup brown sugar
2 Tablespoons Flour
1 Tablespoon Cinnamon
For the Glaze:
2 cups of Powdered Sugar
5 Tablespoons Milk
1 tsp. Vanilla
Cinnamon Roll Cake Directions:
For the Cake: Mix all ingredients except the butter on low speed until well combined. Slowly stir in the butter and then pour into a 9×13 inch pan.
For the Topping: Mix all the ingredients together on low speed. Drop spoonfuls evenly over the cake batter and swirl with a knife.
Bake at 350 degrees for 20 minutes or until a toothpick comes out clean from the middle.
For the Glaze: Mix all ingredients at low speed until well combined. While the cake is still hot drizzle the glaze evenly over the cake.
Let it cool a little but not too much! You still want it warm when you eat it!
Enjoy it for breakfast with a piece of fruit to make you feel better about eating cake in the morning.
This is an article written by a member of the SheKnows Community. The SheKnows editorial team has not edited, vetted or endorsed the content of this post.
Want to join our amazing community and share your own story? Sign up here.