Sunday morning, I was awakened by beautiful sunshine peaking in through the window. I got up and made myself a cup of tea, while humming an old song tune I haven't heard in days. We are not used to waking up to bright sunshine except for the months of July and August and when it happens it makes you feel happy and so much more alive. My husband was gone grouse grinding, daughter was still in bed and I thought to go out and get some fresh air after having tea.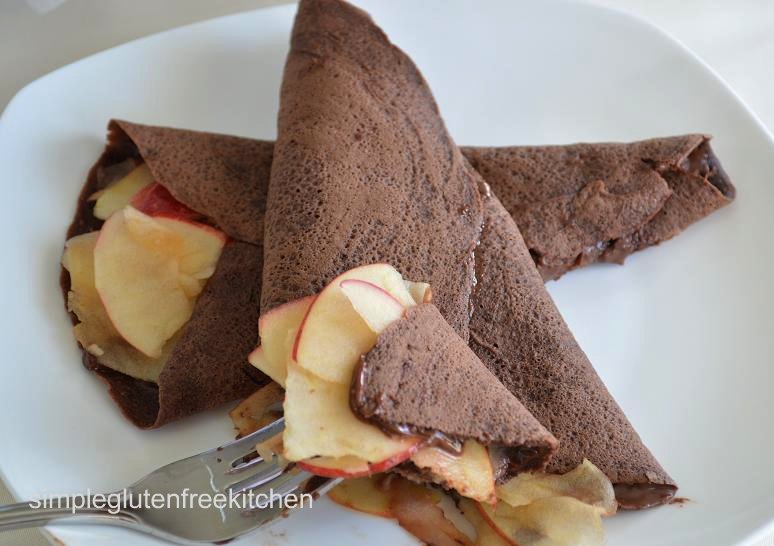 Sunday mornings are usually quiet in my home I do  not have to make proper breakfast as I do on other days. My daughter wants to catch up with her sleep and husband religiously go for his hike and I change my morning routine according to weather but there are exceptions when on some mornings we have breakfast together. Last Sunday was not that exceptional day but since I was particularly enjoying the morning sun, I wanted to make something for breakfast and I made chocolate crepes.
Crepes are the undemanding breakfast or dessert that you can enjoy all year long with any filling. They are perfect for busy mornings as they can be  made 1 day ahead, stacked and wrapped well in plastic wrap or aluminum foil. My daughter and I always feast on plain crepes with berries when ever there is whipping cream in the fridge. However, this time we scarfed down the crepes with generous filling of nutella and freshly sliced apples. Well, apple in crepes is unusual but it gives a light crunch factor to a soft crepe mixed with your favorite chocolate hazelnut spread. I  actually have Tina V. to thank for this apple idea. Last week she shared choco apple squares on Google+, I loved the simplicity and elegance of the dessert so much that I was inspired to fill chocolate crepes with apple slices. You can check out her post here.  These crepes are simple, healthy and most importantly delicious. I hope you will find them delicious, too.
CHOCO CREPES WITH NUTELLA AND APPLE FILLING
Makes: 7 crepes
Ingredients for choco crepe batter:
1/3 cup oat flour
2 tbsp sorghum flour
2 tbsp unsweetened cocoa
3 eggs
1/4 cup milk
3/4 tbsp sugar
1/2 tbsp melted butter plus more for pan
Filling:
nutella
2 -3  apples
lemon juice
Method:
In a medium bowl whisk together eggs. Add in unsweetened cocoa, sugar, oat and sorghum flour, mix until  combined.
Add milk and melted butter, while whisking until the batter is quite thin (Add a tsp of more milk if needed) Some time I  make the batter rest in fridge for an hour but this one I used it right away.
Place a 10″ non stick pan or skillet over medium heat. Lightly sweep melted butter in pan with paper towel.
Pour 1/4 cup batter. Tilt and swirl the pan in a circular motion so that the batter coats the  surface evenly.
Cook over medium heat until underside is light browned and edges start to get crispy. It will take from 30 sec. to 1 minute.
Flip over and cook the other side. Slide the crepe out of the pan and keep warm in oven (on very low heat) until you are ready to serve. Repeat until all the batter has been used.
Thinly slice apples with a knife or apple slicer or  food processor. Squeeze lemon juice to prevent browning.
To fill crepes, spread nutella and top it with sliced apples. Roll and enjoy!
This is an article written by a member of the SheKnows Community. The SheKnows editorial team has not edited, vetted or endorsed the content of this post.
Want to join our amazing community and share your own story? Sign up here.