This article was written by a member of the SheKnows Community. It has not been edited, vetted or reviewed by our editorial staff, and any opinions expressed herein are the writer's own.
I admit that I was more than a tiny bit skeptical when I started hearing about pizza crust made from cooked cauliflower, cheese, and egg, but when my nephew Jake and I tried this, we were impressed even with our first try. It did take us a couple of experiments to settle on the recipe with almond flour and Parmesan that we thought was a keeper. We used mushrooms and olives that time, and gobbled this up for a Meatless Monday lunch. Even if you don't care about pizza that's gluten-free or low-carb, this is really delicious. (And if anyone is wondering why we're making pizza when it's so hot outside, we cooked it on a pizza stone on the grill; of course you can also cook it in the oven if you prefer.)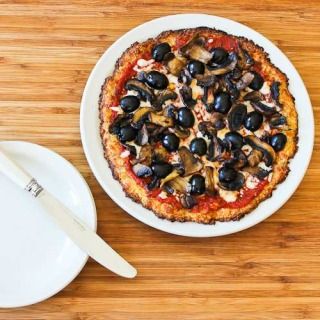 Photo of Cauliflower Crust Vegetarian Pizza
from Kalyn's Kitchen
Get the recipe for Cauliflower Crust Vegetarian Pizza from Kalyn's Kitchen
Have you made something interesting for Meatless Monday this week? If so please share the recipe link or your recipe in the comments. You can find more Meatless Monday recipes by clicking the tag Meatless Mondays.
BlogHer Contributing Editor Kalyn Denny also blogs at Kalyn's Kitchen where she's committed to low-glycemic cooking, and at Slow Cooker From Scratch, where she features "from scratch" slow cooker recipes. Kalyn probably won't ever be a vegetarian, but she does love to make meatless dishes such as this one.