This article was written by a member of the SheKnows Community. It has not been edited, vetted or reviewed by our editorial staff, and any opinions expressed herein are the writer's own.
Home Canning has been making a comeback for a few years, but last weekend in the U.S. a quiet little canning revolution called Canvolution kicked off, sponsored by a group called Canning Across America. Food bloggers across the country enthusiastically joined in, canning foods from their gardens or the local farmers market. Why are people re-discovering home canning, and is it something you might want to try?
With a familiar-sounding slogan, here's how Canning Across America describes their mission: "Canning Across America (CAA) is a nationwide, ad hoc collective of cooks, gardeners and food lovers committed to the revival of the lost art of *putting by* food. Our goal is to promote safe food preservation and the joys of community building through food. We believe in celebrating the bounty of local and seasonal produce and taking greater control of our food supply. Together, we can."
Canning Across America founding members include a number of well-known food bloggers, food writers, and cook book authors, and the site has a great list of resources for canning information and recipes. I'm an enthusiastic gardener who freezes everything but has never canned, but I vividly remember my mother making "bottled" tomatoes, apricots, peaches, pickles, jam, and salsa. In those days, much of the motivation towards canning was economical, and with a family of ten kids to feed, my mom was looking to save money wherever she could. Present day canning enthusiasts are just as likely to be inspired by a desire to preserve the flavor of food picked in season or a motivation to control what goes into the food they're eating and avoid chemical additives or ingredients like high-fructose corn syrup. Canning is the logical extension of the quest to eat natural, local, and seasonal foods.
I just found out about the Canvolution and started saving posts to feature, and right away I found so many interesting canning ideas I've decided to do a series of posts that might inspire BlogHer readers to try home canning. I'm starting with tomatoes and vegetables, since they're at their peak of ripeness now (or soon will be, if you live where the wet spring has delayed the harvest.) Next Sunday I'll focus on canning fruits and making jam and jelly, and the following Sunday we'll finish up with pickles, relish, and chutney. Get your bottles sterilized, and get ready to join the Canvolution.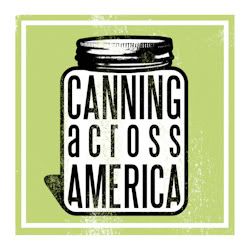 Canning Logo from Canning Across America
Canning Across America Kick-Off Weekend:
~Canning Across America founders talk to Slashfood about What Motivates People to Can.
~Nika from Nika's Culinaria says You Can Have Fun Canning in a post with great photos showing the canning process.
~Shauna from Gluten-Free Girl and friends throw A Party to Preserve the Season, with more great photos of canning in this post.
~Foodie Tots joins the Canvolution with Tomato Jam, and enjoys her first mother-son canning experience

Photo of canned tomatoes from
The Even Greater Tomato Canning at Hedonia
Ideas for Canning Tomatoes:
~At Hedonia, Sean and friends successfully can 100 pounds of tomatoes, in an event they're calling The Even Greater Tomato Canning of 2009. See Sean's impressive tomatoes pictures above.
~ See the Italian method for Home-Canned Tomatoes from Cindystar (scroll down to the English version at the end). Beautiful photos of the canned tomatoes!
~Hank at Hunter, Gardener, Angler, Cook shows off his impressive pantry of home-canned food and talks about Tomato Sauce Variations on a Theme.
~The Bitten Word gives step-by-step directions for Canning Tomatoes, using the recipe for Canning Tomatoes they found on Welcome to my Garden.
~Another great post on Canning Tomatoes Step-by-Step from Kitchen Gardeners International.
~The Nourishing Gourmet says Canning Tomatoes: Spend Time, Save Money.
~ More about Preserving Summer Tomatoes (plus a recipe for homemade ketchup) from Grow, Cook, Eat.
~Farmgirl Susan makes Homemade Tomato Vegetable Juice which can be canned if you don't drink it all!
~Seasonal Ontario Food talks about Canning Salsa, with an insistence that salsa must contain lime juice and not vinegar, and good instructions.
~The Crispy Cook uses a three-day method for Canning Homegrown Tomato Sauce.
~Umami girl cans tomatoes and answers the question Why Can Vegetables?

Photo of Dilly Beans
from The Crispy Cook.
Ideas for Canning Vegetables:
~A recipe that might inspire me to try canning is the Marinated Roasted Red Bell Peppers from Simply Recipes.
~Though she laments that they ripen in the heat of the summer, The Crispy Cook does a great job of Canning Dilly Beans (pictured above), and she also has ideas for Canning Sweet and Sour Wax Beans.
~Mom's Cafe also knows a thing or two about Canning Green Beans.
~At Tigers and Strawberries, Barbara has the great idea of Canning Tomatillo Salsa (and even though tomatillos are really a fruit, I decided it goes with vegetables!)
More Canning Tips and Resources:
~Marisa McClellan writes a blog devoted to canning at Food in Jars
~A Veggie Venture shares Practical Home Canning Tips
~If you're new to canning, start by reading A General Introduction to Pressure Canning at Tigers and Strawberries.
~I found a very comprehensive post about Home Canning using the Boiling Water Method from Andrea Meyers, including an impressive collections of links to canning information.
~Follow Canvolution on Twitter for canning updates
~BlogHer Contributing Editor Deb Roby shares tips for Preserving the Harvest
Are you a fan of home canning? If you have recipes or blog posts for canning tomatoes or vegetables, please share them in the comments!

Kalyn Denny also blogs at Kalyn's Kitchen, where she's focused on creating low-glycemic recipes using fresh ingredients. Kalyn has already confessed she's never canned a thing, but every year she does make Roasted Tomato, Italian Sausage, and Basil Pasta Sauce for the freezer.