I was recently gifted the annual Food & Wine Cookbook, and I'm seriously loving all the amazing recipes (over 700) from some of the most renowned chefs in the country. 
Here are a few that we have had this week that have turned out awesome.
Roasted Brussels Sprouts & Cauliflower Fettuccine with Toasted Breadcrumbs and Fresh Parmesan 
Any Brussels Sprouts lovers out there like me?
I swear once you learn how to bring out the best of their flavor, you'll be hooked.
The other day I roasted a batch in the oven and chomped away for a mid-afternoon snack. 
This meatless pasta is SO good and packed with fantastic flavor. The salty and tender vegetables with the buttery and crisp toasted breadcrumbs, and of course that luscious pasta make an elegant and delicious way to eat your vegetables!
To get the recipe, visit my food blog here:
Greener and Leaner General Tso's Chicken
I've posted several Asian dishes on my food blog that are much lower in sodium and sugar than fattening takeout. The restaurant version of this meal would most likely involve deep frying the chicken and drenching each piece in a sticky and overly sweet sauce. This version is much lighter and has the perfect subtle spicy-sweet kick.
To get the recipe, visit my food blog here:
Chicken Milanese with Sage & Lemon Butter Sauce
Healthy and Light, this dish is not. Heavenly, it most certainly is. Chicken or pork Milanese is an indulgent and a major comfort food favorite of mine, and paired with this lemon-sage sauce it just got even better. Eat this at the end of a long day and you will be forgetting all your troubles. The sauce is buttery and savory with an aroma that is sweet and rich. The breadcrumb/cheese/lemon zest mixture that the chicken cutlets are coated in is so delicious, and the fresh sage in the sauce and garnished on top is the perfect subtle yet earthy accent to this amazing meal.
To get this recipe, visit my food blog, here:
Visit my blog on motherhood, life on the California coast, food, travel, style, and more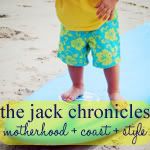 This is an article written by one of the incredible members of the SheKnows Community. The SheKnows editorial team has not edited, vetted or endorsed the content of this post.
Want to join our amazing community and share your own story? Sign up here.