This week my mind was on lunches.  I hear all the time from people that they want more ideas for quick, healthy lunches.  This salad is very filling because it contains plenty of protein due to the quinoa.  I whipped this up in no time with just a few ingredients:
1 head of Romaine
1 cup Bibb lettuce
1/4 cup fresh mint
1/4 cup dried apricots
1/4 cup toasted almonds
3/4 cup Quinoa
pea shoots
I chopped up a head of Romain, Bibb lettuce and fresh mint for the base.  Next, I rinsed and cooked the quinoa according to the directions on the package.
Red quinoa from Trader Joes
Quinoa is full of protein and fiber and it gives this salad a nutty crunch.  I got this Red Quinoa from Trader Joe's.  While it was cooking, I put some slivered almonds on a baking sheet and toasted them in the oven on 350 for about 10 minutes.  It takes the quinoa about 20-25 minutes to soak up all the water, so while this was cooking and the almonds were toasting, I cut up some dried apricots for sweetness.  I added the quinoa, almonds, and apricots to the salad and I topped it with these pea shoots from Trader Joe's.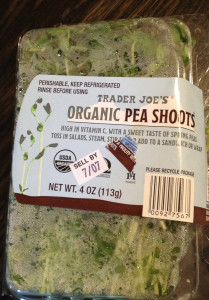 Pea shoots from Trader Joe's
Last, I mixed up the dressing which consisted of: Red wine vinegar, olive oil, salt, pepper, 1 clove garlic, and a tsp of dijon mustard.  This was the final result! What quick lunches do you throw together for a healthy lunch? [sc:apple]
-Wendie Schneider RDN, MBA "The Pantry Doctor"
This is an article written by a member of the SheKnows Community. The SheKnows editorial team has not edited, vetted or endorsed the content of this post.
Want to join our amazing community and share your own story? Sign up here.