This article was written by a member of the SheKnows Community. It has not been edited, vetted or reviewed by our editorial staff, and any opinions expressed herein are the writer's own.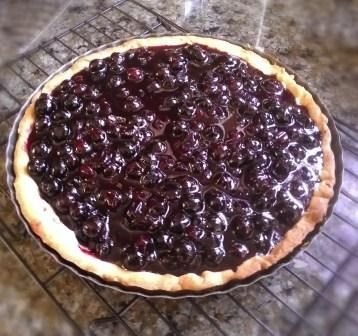 It's BLUEBERRY season!!
So I made a Blueberry Cheesecake Tart
(also seems to be tart season around here…).
See, what you do, it take those lovely Blueberries that are full of anti-oxidants and healthy stuff… then you add a cookie crust, and some cream cheese mixed with sugar… makes the Blueberry experience quite satisfying…(grin)…
Seriously… the Blueberry Cheesecake Tart is a refreshing way to use blueberries. The simple sugar cookie crust holds just the right amount of sweetened cream cheese to keep the crust from getting soggy from the blueberries. (No one likes soggy crust…).
Fresh Blueberries are essential for the Blueberry Cheesecake Tart. (I suppose you could use frozen… just keep in mind… it won't scream SUMMER). You cook half of them with some sugar, to make a sort of compote, then add the rest to keep that fresh blueberry snap.
The Pastry for the tart can be made a day or 3 in advance (or make it that day). Since the crust recipe makes enough for 2 tart crusts… you can bake one, and freeze the other (airtight…for up to a month) OR bake both (then eat one, and deny to anyone who asks that it ever existed).
The Cheesecake filling is simple… just cream cheese mixed with a bit of sugar, then whipped until it's light. Yes, you can use low-fat cream cheese….
The parts for the Tart can be made in advance… but it tastes best the day it was made (OK… the next day it's pretty good too… ). Or, you can have the Tart in 2 hours if you bake the crust and make the filling at the same time… it does need some chill time.
It's the perfect dessert for a summer afternoon…
Blueberry Cheesecake Tart Recipe
Makes a  9 inch Tart
Prep Time: Crust – 1 hour (with chill and bake time), Cheesecake filling… 5 minutes, Blueberry Filling 45 minutes (will cook and chill time
Total Time: You can have this tart on the table in about 2 hours…2 Tops
Ingredients
Sugar Cookie CRUST (makes 2)
2 1/2 cups Flour
3/4 cup Powdered Sugar
1 cup Butter -cut to pieces
2 Egg Yolks
1 tsp Vanilla Extract
BLUEBERRY FILLING
3 cups Fresh Blueberries -divide
1/8 cup Water
2 tsp Cornstarch
1 tsp lemon zest
3 TBL Lemon Juice
CHEESECAKE FILLING
4 oz Cream Cheese (yes
lowfat is ok)
3-4 TBL Granulated Sugar
Instructions
CRUST-
In the bowl of a food processor, pulse the flour and powdered sugar.
Add the butter, a piece at a time, while pulsing… until the butter is all incorporated (will look like damp sand)
Add the egg yolks… pulse until the dough comes together in a lump. (It'll happen… keep pulsing) When it does come together… STOP
Lay 2 pieces of plastic wrap onto the counter (or table)
Divide the dough in half… plop each half on a piece of plastic.
Pat the dough into a disk, and wrap with plastic.
Stick in the refrigerator to cool for 30 minutes.
Preheat the oven to 350 degrees Fahrenheit.
After 30 minutes, roll the dough disk into a 13 inch round. I find it's easiest to do this between 2 pieces of plastic wrap (just shift the top bit occasionally) or 2 pieces of waxed paper. This way, you don't have to flour the counter, so you keep the counter clean, and it's easy to lift the dough into the pan.
Lay the dough into your Tart Pan with the removable bottom (you do have one, right? if not, use a pie plate).
Poke the dough with a fork
You need to 'Blind Bake' the crust.
Put a piece of parchment paper over the dough… fill the parchment paper with pie weights or dried beans.
Bake for 15 minutes.
Remove the parchment, and bake another 10 minutes. If it looks like it's getting too dark , cover it with aluminum foil.
Cool on a wire rack.
(you can freeze the crust when it cools… wrap it airtight… then pull it out for an instant tart!)
BLUEBERRY FILLING
(Double this if you are making 2)
Divide the Blueberries in half.
Combine the water and cornstarch… stir until smooth.
Put half of the Blueberries in a saucepan, pour the cornstarch mixture into the pan.
Add the Lemon Zest.
Stir over medium heat until it comes to a bubbly boil.
Cook for 1- 2 minutes. The blueberries will start to burst, and the liquid will go purple.
Add the rest of the Blueberries and the Lemon Juice, stir and remove from heat.
Stir a bit more…
Pour into a bowl to cool.
CHEESECAKE FILLING
(Double this if you are making 2)
Combine the cream cheese and the sugar in a mixer… beat, scrape… now beat for 3 to 4 minutes until it lightens up.
SOME ASSEMBLY REQUIRED
Spread the Cheesecake filling over the cooled crust.
Spread the Blueberry Filling over the Cheesecake Filling.
Stick in the refrigerator for 30 minutes (or longer)
Eat