This article was written by a member of the SheKnows Community. It has not been edited, vetted or reviewed by our editorial staff, and any opinions expressed herein are the writer's own.
Last night, we had appetizers/ finger foods for dinner. Stuffed mushrooms sounded really good. I love seafood and decided to make these stuffed with a little blue crab. Notice I said Blue Crab and not imitation crab. I don't like the taste of imitation crab and won't use it. Besides imitation crab is actually fish, mainly Alaskan Pollock. If you've ever wondered what is in imitation crab meat or what the difference between real and imitation, take a look at the pictures below.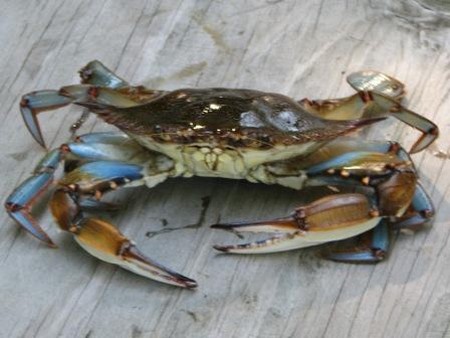 Blue Crab (above)              Crab Meat
15-20 white button mushrooms, stems removed
6 Tablespoons olive oil, divided
1/4 cup sweet onion, finely chopped
1/4 cup celery (about 1 stalk), finely chopped
1 clove garlic, chopped
2 Tablespoons fresh cilantro, chopped
1 teaspoon dried thyme
3 Tablespoons dried parsley
Lemon juice from 1/2 lemon
1 Tablespoon Worcestershire sauce
1 cup panko bread crumbs
2 Tablespoons Old Bay Seasoning
1 cup blue crab, chopped
2 Tablespoons freshly grated parmesan cheese
1/4 cup mayonnaise
Salt and pepper
Preheat oven to 375 degrees.
Coat 9x12 baking pan with 3 tablespoons olive oil. You can also use a cooking spray if desired.
Heat a saute pan over medium heat with 3 tablespoon olive oil.
Add chopped onions and celery. Saute until onions soften, about 5-7 minutes.
Add chopped garlic, cilantro, thyme, and parsley. Continue cooking another 2 minutes.
Turn off heat. Add lemon juice and Worcestershire Sauce. Stir to combine.
Add bread crumbs, Old Bay Seasoning, crab, and parmesan cheese. Stir until well combined.
Add parmesan cheese and mayonnaise. Season with salt and pepper to taste.
Fill each mushroom cap with crab mixture. Press firmly to compress the mixture.
Place filled mushroom onto the oiled baking  pan.
Bake for 20-25 minutes or until crab mixture is lightly browned. Remove from oven and serve immediately.