Blogher's Top Ten List of What to Make with Leftover Turkey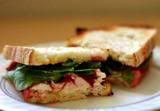 Anyone living in the U.S. who's not a vegetarian is most likely eating turkey today, and if you cooked the turkey yourself, you might be eating turkey tomorrow, and the day after that, and the day after that . . . I'm sure you know what I mean. Turkeys can be rather large, and they often produce a lot of leftovers. Worry no more though, for here you go with Blogher's top ten ideas for how to use those turkey leftovers.
#10 Turkey Mole For an authentic recipe just made for leftover turkey, try the Mole Poblano at Homesick Texan. Not sure what mole is (pronounced mo-lay) or whether you like it? No worries because Rachael from Fresh Approach Cooking has got Turkey Mole Gringa Style.
#9 Turkey Ravioli You can finely mince cooked turkey and use it in ravioli or wontons. Michelle of Je Mange la Ville has some Turkey Cranberry Ravioli inspired by Giada, and Sean of Hedonia also tried his hand at making Giada's Turkey Cranberry Ravioli.
#8 Turkey Casseroles Turkey Tetrazzini is probably the most famous type of turkey casserole, and Simply Recipes has a good version. Chef Tom Cooks has Leftover Turkey Casserole that sounds like it uses up a lot of the other Thanksgiving leftovers besides turkey. At Kitchen Parade Alanna has Turkey and Wild Rice Casserole. And just in case you're wondering whether casseroles are even still cool, Cookiecrumb at I'm Mad and I Eat has the answer, plus a few memories.
#7 Turkey Stew If you want something a bit more substantial than turkey soup, the Turkey Quinoa Stew from The Culinary Chase sounds like a wonderful idea.
#6 Turkey Lasagna One of my own favorite uses for leftover turkey is to make Turkey Lasagna with Sage and Three Cheeses. Another lasagna variation is the Turkey Lasagna with Eggplant and Spinach at A Mingling of Tastes.
#5 Turkey Chili Simply Recipes has an amazing looking Turkey Chili that can be made with turkey leftovers. Chili Con Gobble at Sassy Radish is made with ground turkey, but no reason you couldn't use pieces of diced turkey. Same goes for my own Turkey and White Bean Chili with Chocolate.
#4 Turkey Enchiladas Now it's getting really interesting! How about trying these Chicken Enchiladas at Chez Megane or Leftover Turkey Enchiladas Verdes with Cranberry-Jalapeno Salsa from Apples and Sparkles.
#3 Turkey Salads Pretty much any salad that uses diced chicken can be made with turkey. Mimi at French Kitchen in America has a great sounding Curried Turkey Salad with Dried Apricots and Cashews. Joe from Culinary in the Country also has a Curry Turkey Salad. Slashfood puts the salad in a tortilla for Tony Randall's Crunchy Turkey Wraps.
#2 Turkey Soup If you've never saved the turkey carcass, simmered it for hours with some carrots, celery, and onions, and then used that delicious turkey stock to make soup, well you just haven't lived. Recipes for turkey soup abound, so if you have your own good one, leave it in the comments. Meanwhile I love the sound of Turkey, Tortellini, and Watercress Soup at A Veggie Venture, Turkey-Escarole Soup at The Perfect Pantry, and Turkey Gumbo Soup at No Food Left Behind.
#1 Turkey Sandwiches Of course no one can argue that the number one way to use leftover turkey is turkey sandwiches! In my family we always make them with those folded rolls, just slather on the mayo and mustard and slap some turkey inside the fold, and what more do you need? But if you'd like something a bit more unusual try the Toasted Turkey Cranberry Arugula Sandwich from Simply Recipes (pictured in the photo), Grilled Cheese, Pear, and Smoked Turkey Sandwich from Cooking with Amy, or "The Moistmaker" Turkey Sandwich from Slashfood, made famous by an episode of Friends.
Kalyn's Picks this Year Blogher Food Editor Kalyn Denny always cooks a turkey before Thanksgiving to try out new recipes for her readers at Kalyn's Kitchen. This year she created a new recipe for Leftover Turkey and Sweet Potato Soup with Black Beans and Lime and also made Brown Rice Salad with Leftover Turkey, Red Cabbage, and Pecans.
This is an article written by one of the incredible members of the SheKnows Community. The SheKnows editorial team has not edited, vetted or endorsed the content of this post.
Want to join our amazing community and share your own story? Sign up here.