BlogHer Cooks: Let us Know What's On Your Thanksgiving Menu and We'll Feature Your Best Recipe Here
Thanksgiving is three weeks away, and cooks all over the U.S. are looking for something special for the menu. This is a meal where people like to plan ahead, even though turkey is usually a given and many families have traditional dishes they make every year. Of course, some good cooks have special holiday recipes they've become known for, and those are the ones we want to know about. Tell us about your Thanksgiving specialty and how to make it, and we'll include your recipe link as part of this post.
There are actually a couple of ways this can work, so whether or not you're a food blogger, you can share in the fun.
First, if you're a food blogger who's already written about your favorite Thanksgiving recipe, just grab the link and leave it in a comment here, along with the name of the dish. I'll come back periodically between now and Thanksgiving to get those links and add them to the body of the post. (I'm going to limit it to one per person and reserve the right to stop adding them to the post if I can't keep up! Too many good recipes would be what my mother used to call "a good problem to have.")
Second, If you'd like to share a great recipe but don't have it posted on your blog, how about posting the recipe on Blogher.com, where any member can blog? Here are instructions for how to start blogging on BlogHer if you've never done it. Once you've posted the recipe on BlogHer, grab the link and post it in a comment here as described above. I'll add those links to the main post as well.
Finally, for people who don't feel like posting a link in one of the two ways above, you're welcome to leave the entire recipe as a comment.
Ultimately, there could end up being a lot of categories for Thanksgiving recipes, but here are a few recipes from some of my blogging friends to get you started.

How to Cook a Thanksgiving Turkey
--For the last few years I've used Elise's Mom's Roast Turkey Recipe from Simply Recipes, and personally I think it can't be beat.
--Queen of the Click shares her Grandma's tips for Juicy Thanksgiving Turkey.
Cranberry Recipes
--I think the Homemade Cranberry Sauce at Average Jane sounds way above average!
--BlogHer Contributing Editor Maria Niles recommends Joanne Weirs Spice Cranberry and Zinfandel Sauce (link is to a pdf of the recipe which she says is what her family requests for the holiday meal.
Fun and Food Cafe has a recipe for Spiced Cranberry Plum Sauce that really sounds good.
Benjamin Daymon shares a link for Two Versions of Cranberry Sauce.
Thanksgiving Vegetables
--World's Best Green Bean Casserole from Alanna at A Veggie Venture has a lot of fans.
--The two talented bloggers at Show Me the Curry recommend Spicy Tandoori Cauliflower which I think sounds like a fabulous Thanksgiving dish.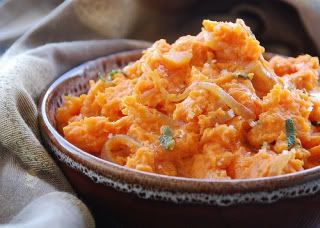 Starchy Side Dishes for Thanksgiving
--I think these Olive Oil, Carmelized Onion, and Sage Mashed Sweet Potatoes from Food Blogga look amazing. (pictured above)
--Love the sound of Hominy Tomatillo Stuffed Pumpkin from My Kitchen in Half Cups.
--Andrea of Andrea's Recipes says her husband never liked sweet potatoes until she tried this recipe for Mashed Sweet Potatoes with Green Chiles.
Patricia at Cook Local has a recipe for Local Stuffing that features farro, one of my favorite ingredients!
Vegetarian or Vegan Main Dishes for Thanksgiving
--Blogher Co-Founder Elisa has a delicious-sounding recipe for Tofu Pot Pie that she says introduced her to cooking with nutritional yeast.
--Ginger Lemon Girl shares another great-sounding vegetarian recipe for Thanksgiving Pumpkin Lasagna.
What do I Know says Breast of Tofu with Herbed Cornbread Stuffing is perfect for Thanksgiving.
Fruited Wild Rice from The Veggie Queen would make a fantastic side dish, but I also love her idea of stuffing it inside a squash for a lovely vegan main dish.
Deborah from Italian Food Forever shares a very tasty sounding recipe for Squash Stuffed Pasta.
Thanksgiving Desserts
--At Karina's Kitchen, Karina says no one will ever guess that her pumpkin pie recipe is for Vegan Pumpkin Pie.
--Lydia of The Perfect Pantry calls her version Not Just for Thanksgiving Pumpkin Pie.
--Vanilla Sweet Potato Pie with Brown Sugar Crust sounds delish at The Expatriate's Kitchen.
--Bozette at Red Nose says her Pumpkin Chiffon Pie is The Best Pumpkin Pie in The Whole Entire World!
--Pumpkin Cheesecake with Caramel Sauce sounds good from It's All Delicious.
--Karen at Art of the Heart says she gets a lot of requests for her Cinnamon Rolls.
She's in the Kitchen recommends Spicy Pumpkin Cake with Sugared Ginger.
Check the Comments!
Since I'm only adding one recipe per blogger, plus some people are typing their recipe as a comment, don't forget to check the comments for more tasty-sounding recipes!
Kalyn Denny writes about food and at BlogHer.com and shares her passion for cooking at Kalyn's Kitchen. For the third year in a row she's featuring South Beach Diet Friendly Thanksgiving Recipes during November, including her favorite Reduced Sugar Pumpkin Cheesecake.
This is an article written by one of the incredible members of the SheKnows Community. The SheKnows editorial team has not edited, vetted or endorsed the content of this post.
Want to join our amazing community and share your own story? Sign up here.