If you're a tofu virgin, or possibly someone like me who's only cooked tofu a few times, the beautiful step-by-step photos in this recipe for Black Pepper Tofu from Macheesmo will make it easy to cook this dish. Nick isn't even a vegetarian, but he makes a lot of vegan dishes and says, "This recipe might be one of the most flavorful and interesting vegan dishes I've ever made or had." And one look at the flavors in the ingredient list convinced me this is a perfect recipe to try for Meatless Monday.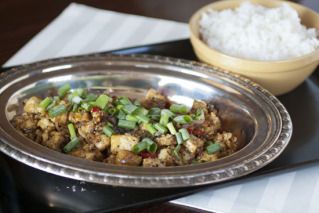 Photo of Black Pepper Tofu
from Macheesmo
Get the recipe and see the step-by-step directions for Black Pepper Tofu from Macheesmo.
Have you made something interesting for Meatless Monday this week? If so please share the recipe link or your recipe in the comments. You can find more Meatless Monday recipes by clicking the tag Meatless Mondays.
BlogHer Contributing Editor Kalyn Denny also blogs at Kalyn's Kitchen where she's committed to low-glycemic cooking, and at Slow Cooker From Scratch, where she features "from scratch" slow cooker recipes. Kalyn probably won't ever be a vegetarian, but she does love to make meatless dishes such as Baked Tofu with Soy and Sesame.
This is an article written by a member of the SheKnows Community. The SheKnows editorial team has not edited, vetted or endorsed the content of this post.
Want to join our amazing community and share your own story? Sign up here.