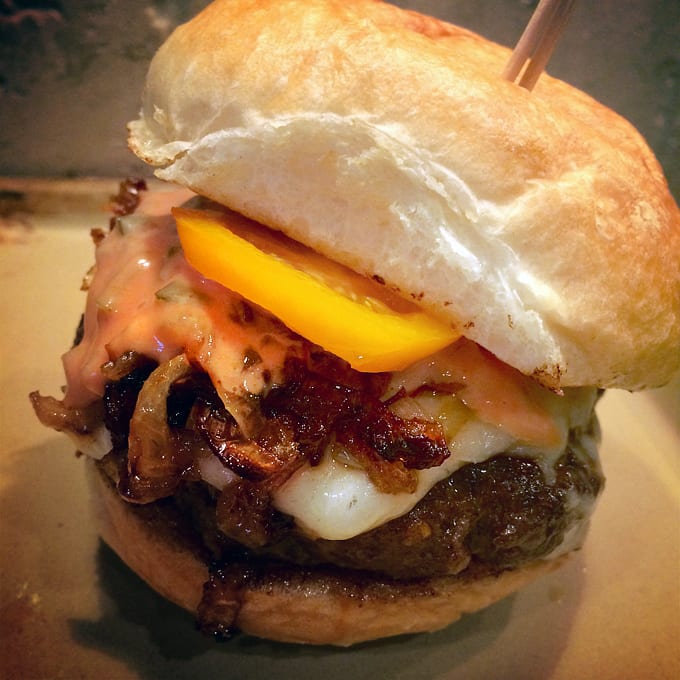 For the past couple of years, I've been grinding different variations of burger and freezing it.
I've ground burger with bacon ends to add fat into the meat. I've ground burger with jalapenos and bacon ends. I've even ground burger with jalapenos, garlic and bacon ends. I have to say each and every blend has been amazing but this year I decided not to add anything to our antelope burger so I could add variation each time I wanted to cook with it.
I made these full flavored antelope burgers using a 1lb of fresh ground antelope, a ¼ lb of chorizo sausage to add a little fat, ground coriander, garlic powder and ½ panko breadcrumbs. I cooked them in butter in a cast iron skillet, topped them with Havarti cheese, caramelized sweet onions and finished them in the oven for a few minutes.
They came out of the oven medium to medium rare and were extremely moist and full of flavor.
One of the BEST ANTELOPE BURGERS EVER!
Makes 6 Burgers
Antelope Chorizo Burgers
1lb ground antelope burger
1/4 lb chorizo sausage (mild, medium or hot)
1/4 teaspoon ground Coriander
1/4 teaspoon garlic powder
2 tablespoons butter
6 slices Havarti Cheese
Tomato (sliced)
6 hamburger buns
Caramelized Sweet Onions
1 large sweet onion (sliced)
1 teaspoon brown sugar
2 tablespoons butter
Sriracha Thousand Island Sauce
DIRECTIONS
Set your oven to broil. (I do this now only because my oven seems to take 30 minutes to get up to the appropriate heat.)
Mix together ground antelope meat, chorizo, coriander, garlic powder and panko breadcrumbs. Shape into 6 hamburger patties. Let the meat rest for 15 minutes.
Heat cast iron skillet over medium heat, melt butter and add onions. Saute your onions until they become translucent. Add brown sugar, stir and continue to cook for a few more minutes. Remove onions from skillet and set aside.
Using the same cast iron skillet turn the heat up to medium-high and add 2 tablespoons butter. Place burgers in skillet and cook on each side for approximately 5/6 minutes or until browned. Remove from heat.
Top each antelope chorizo burger with a slice of Havarti cheese and caramelized onions. Place cast iron skillet under the broiler until the cheese has melted. Remove from oven.
Take the best looking burger from the skillet and place on your favorite hamburger bun, add a large dollop of Sriracha thousand island and complete with a freshly sliced tomato and be prepared to eat more than one!!! We did!
Enjoy!
Kristy Crabtree
Wild Game Recipes | Elk, Venison, Antelope, Chukar and other Wild Game
This is an article written by a member of the SheKnows Community. The SheKnows editorial team has not edited, vetted or endorsed the content of this post.
Want to join our amazing community and share your own story? Sign up here.