Just in case you might possibly forget Valentine's Day is coming, food blogs are filled with tempting pink foods these days as a reminder. Of course there are pink cookies, cakes, and cupcakes, but I was more intrigued by the beautifully pink Beet Pasta Ravioli with Goat Cheese, Hazelnuts, and Chives I spotted at The Italian Dish. What a perfect Valentine's Day recipe, and also perfect for Meatless Monday as well.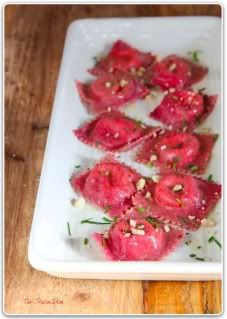 Photo of Beet Pasta Ravioli
from The Italian Dish
Get the recipe for Beet Pasta Ravioli with Goat Cheese, Hazelnuts, and Chives from The Italian Dish.
Have you made something interesting for Meatless Monday this week? If so, please share the recipe link or your recipe in the comments. You can find more Meatless Monday recipes by clicking the tag Meatless Mondays.
BlogHer Contributing Editor Kalyn Denny also blogs at Kalyn's Kitchen, where she specializes in low-glycemic recipes using fresh ingredients. Kalyn probably won't ever be a vegetarian, but she does love to make meatless dishes like Spaghetti Marco Polo.
This is an article written by a member of the SheKnows Community. The SheKnows editorial team has not edited, vetted or endorsed the content of this post.
Want to join our amazing community and share your own story? Sign up here.