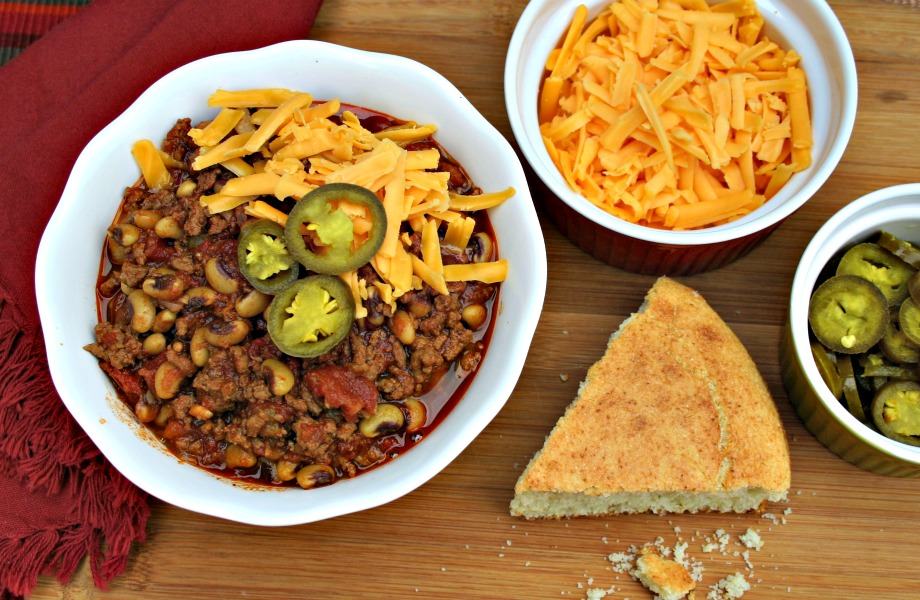 Last week I learned a new cooking technique while preparing Beefy Black-Eyed Pea Chili. The recipe instructions say to cook the spices in hot oil for 2-3 minutes, and the result was a fabulous aroma filling our kitchen. We couldn't wait to try this chili!
After a little research, I found this technique is actually known as blooming spices, which simply means to heat up spices in oil to release and amplify their flavor. You can read more about blooming in this Fine Cooking article, Spice Up Your Cooking.
This certainly proves you're never too old to learn something new - keep experimenting and learning, friends!
Beefy Black-Eyed Pea Chili
2 pounds ground beef
1 medium-size sweet onion, chopped
3 garlic cloves, minced
2 tablespoons chili powder
2 teaspoons ground cumin
1 tablespoon olive oil
1 (6-oz.) can tomato paste
2 (14.5-oz.) cans diced tomatoes
2 (16-oz.) cans black-eyed peas
1 (12-oz.) bottle dark beer
1 cup beef broth
1 (4.5-oz.) can chopped green chilies
2 teaspoons salt
1 teaspoon smoked paprika
½ teaspoon ground red pepper
Toppings: pickled jalapeño pepper slices, shredded Cheddar cheese, pico de gallo or salsa
Cook first 3 ingredients in a Dutch oven over medium-high heat, stirring often, 8 to 10 minutes or until meat crumbles and is no longer pink; drain.
Cook chili powder and cumin in hot olive oil in Dutch oven over medium heat, stirring constantly, 2 to 3 minutes or until fragrant. Add tomato paste, and cook, stirring constantly, 2 minutes.
Add diced tomatoes, next 7 ingredients, and beef mixture; bring to a boil over medium-high heat. Cover, reduce heat to medium-low, and simmer 30 minutes. Serve with desired toppings.
This is an article written by a member of the SheKnows Community. The SheKnows editorial team has not edited, vetted or endorsed the content of this post.
Want to join our amazing community and share your own story? Sign up here.