This post is a follow up to my 10 Frugal Tips for the Holiday Hostess article. Many of you had questions about freezing foods for the holiday season so I thought a "part 2" to that article would be helpful. In this article, I've tried to address some basic freezing techniques. I've also included a sample holiday menu with information and guidelines on freezing as well as thawing.
Basic Freezing Tips
What can you freeze? There are tons of items that freeze with no problem so if you find a good deal, stocking up on these types of foods can save you a lot of money. I regularly look for these items to freeze:
Shredded Cheese – My local grocery store was having a sale on Kraft cheese and there was a good coupon that went with the sale. I was able to get 15 bags of shredded cheese very cheap and I have them all in the freezer.
Meat - My meat comes from a local farmer already frozen. If you find meat at the grocery store (hamburger, chicken, pork or fish), you can take it home and freeze it. When I bought meat at the store, I always divided it up into smaller portions before freezing. That way I could just take out what I needed for one meal. A note about meat – you can freeze raw meat, but once it is thawed, refreezing it will cause it to taste terrible once you have thawed it out again and cooked it. However, you can thaw the raw meat, then cook it and freeze the cooked meat with no problem. This is great to do for things like tacos, chili meat, roast beef, seasoned chicken etc. It can help you save time on busy nights since it is already cooked.
Milk – Yes, you can freeze milk in the plastic jugs or glass jars. I do this because I do not like to drink milk, I just use it in baking. If you do freeze it, make sure to pour some off the top for expansion. Since I cook for one, I usually divide up a jug of milk into clean glass jars so I can freeze smaller portions. The same rules apply for glass jars, make sure you leave about an inch of space at the top of the jar for expansion.
Bread – A loaf of bread will get moldy before I can use it all so I freeze it. I usually divide a loaf of bread in half as soon as I get it home from the store. I put ½ of the loaf in a gallon size ziploc bag and keep the other half in the bread bag. I freeze the bread that is in the ziploc bag. When I have finished up the other half of the loaf, I thaw the frozen bread. It tastes just the same and means less waste for me!
This is by no means a complete list of what you can freeze. To find out more, check out the Freezing Basics publication from the University of Missouri Extension office.
Just as there are many items you can freeze, there are also many food items that you don't want to freeze. Some things just turn out poorly when frozen. Here is a short list of items not to freeze.
Cream Cheese – The consistency is not the same when it is thawed.
Lettuce and/or other Leafy Vegetables – They turn to mush when thawed.
Cooked Spaghetti or Macaroni Noodles – Cooked noodles also turn mushy after they are frozen then thawed. If you have leftover spaghetti sauce, it is best to freeze it by itself, then when it is thawed you can add the cooked noodles.
Mayo or Salad Dressings – let's just say eww!
Again, this is no where near complete list of items not to freeze. Please reference the University of Missouri Extension Freezing Basics publication for further information on items not to freeze.
Types of Containers to Use
The best type of containers to use for freezing are food storage containers, ziploc freezer bags or casserole dishes. If you are using food storage containers, it is best to use the single portion size containers since they will thaw faster and take up less space in your freezer.
If you use ziploc freezer bags, use a bag that is appropriate for what you are freezing. Don't try to stuff too much in the bag and don't waste big bags for small items. Also, make sure to label your food! We will discuss that a little later.
Casserole dishes work great because you can make the dish ahead of time, freeze it, then cook it in the dish so you have less mess.
There are also containers that do not work very well to freeze food in. Recycled butter dishes or cottage cheese type dishes do not work well to freeze food. Ice crystals form quickly and cause freezer burn which means more wasted food.
Labeling Your Containers
Always label your containers or ziploc bags! Seriously! I can't tell you how many times I have tried to figure out what a frozen block of food was just by looking at it. It's nearly impossible to do! I freeze a lot of things and sometimes I forget what I have in my freezer, so it's best to label it. A simple roll of masking tape and a black sharpie will do the trick. It's best to put the tape on the container (I usually put it on the top but you could put it on the side too) and then write what the item is. I also recommend putting the date on there so you have an idea how long the food has been in the freezer.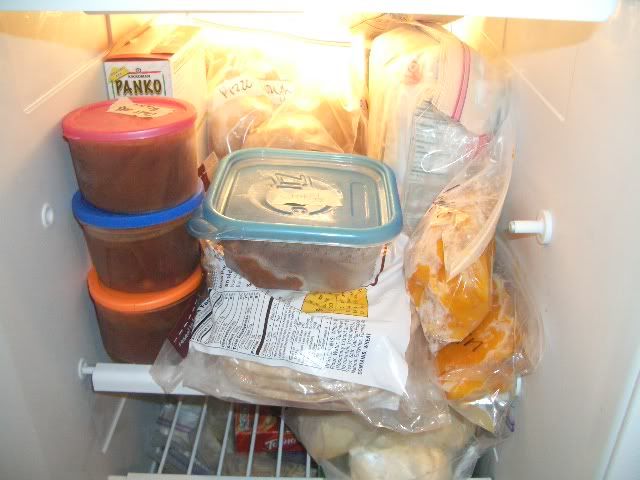 A side note – I also recommend keeping an inventory list of what you have in your freezer. It doesn't have to be fancy, just write down what you put in the freezer as you add it and cross it off when you use it. This also makes for a quick way to plan meals because you can plan your menu based on what is in your freezer.
Thawing Your Frozen Foods
Thawing your food in the refrigerator is the safest way to prevent bacteria forming on the food. If I know I am making something with shredded cheese, I'll throw the bag of cheese in the refrigerator drawer the night before I want to use it. That way it is thawed out the next day.
Always thaw meat in the refrigerator! Even if you are in a hurry and think it will thaw quicker on the counter, don't try it. If you leave it on the counter to thaw, it will form bacteria and can make you sick! It takes a little while for the meat to thaw so I generally put it in a bowl in the refrigerator the night before to start thawing. I put the meat in a bowl in case anything leaks out. Trust me, you do not want "raw meat juice" all over the shelf of your refrigerator!
Sample Meal Plan
Here is an example of a typical holiday meal to show how you could make some of it ahead and freeze. The main purpose of freezing food for a holiday meal is to cut down on your time spent in the kitchen the night before and the day of the holiday.
1. Turkey – Most turkeys come frozen already. Here is the Butterball Guide To Thawing Turkeys to give you more information on how to thaw a turkey. If you don't want to mess with cleaning up turkey bones on the day of the holiday, you can cook the turkey ahead of time. Follow the Butterball guide to thawing the turkey, cook it as normal, then cut the turkey how you like. Freeze it in ziploc bags or freezer containers. Take it out the night before you are having your meal and let it thaw in the refrigerator. Reheat it in the oven and pour turkey broth over the meat to keep it moist.
2. Stuffing – Stuffing is usually best made the day of the meal. However, if you are making homemade stuffing, you can freeze the bread ahead of time. Put the bread in a ziploc bag and seal. Thaw it out the night before you are going to make the stuffing.
3. Loaded Baked Potato Salad – I referenced this recipe in my original article because it is so good and so easy to make. I checked with my mom to be sure, and she said it can be made and frozen up to 2 weeks before the holiday. Put all the ingredients together as if you were going to cook it then wait for everything to cool. Cover the dish with foil or the casserole dish lid and freeze for up to two weeks. Let it thaw in the refrigerator the night before you are going to cook the meal. Bake as normal.
4. Rolls – Rolls can be purchased ahead of time (hopefully found on sale) and frozen in the bag they are purchased in. Set on the counter a day before the holiday meal to thaw. Cook as normal.
5. Cookies – You can freeze the cookie dough or cookies that are already made. I find it easiest to freeze cookies that are baked in a ziploc bag. You can freeze raw cookie dough in any sort of food storage dish. Set the dough or the cookies out the day before your ready to eat them to thaw. Bake the raw dough or hide the cookies that are already cooked so others in the house don't eat them!
6. Pie – most fruit based pies (apple, cherry, etc) can be frozen ahead of time uncooked. Do not try to freeze pumpkin pie! It won't turn out well. To thaw, set the uncooked pie in the refrigerator the night before the holiday meal. Cook as normal.
7. Vegetables – Vegetables are one of the easier things on the menu, because they usually require no thawing! If you are using frozen vegetables, just cook as normal as you are heating up the rest of the meal.
If you want something special for your holiday meal and it can't be frozen, try making it ahead of time so you are not stressed on the holiday. Most vegetable dishes and salads can be prepared 1-2 days ahead of time and will keep fine in the refrigerator.
Freezing food can help save you time and money. If you are not sure if something can be frozen, check the University of Missouri Extenstions' Guides to Freezing or leave a comment here and I will try to help you figure out the best way to handle it!
Jenny Kerr is the creator of The Jenny Pincher and savings expert for the single girl. Visit The Jenny Pincher to learn more.
This is an article written by a member of the SheKnows Community. The SheKnows editorial team has not edited, vetted or endorsed the content of this post.
Want to join our amazing community and share your own story? Sign up here.