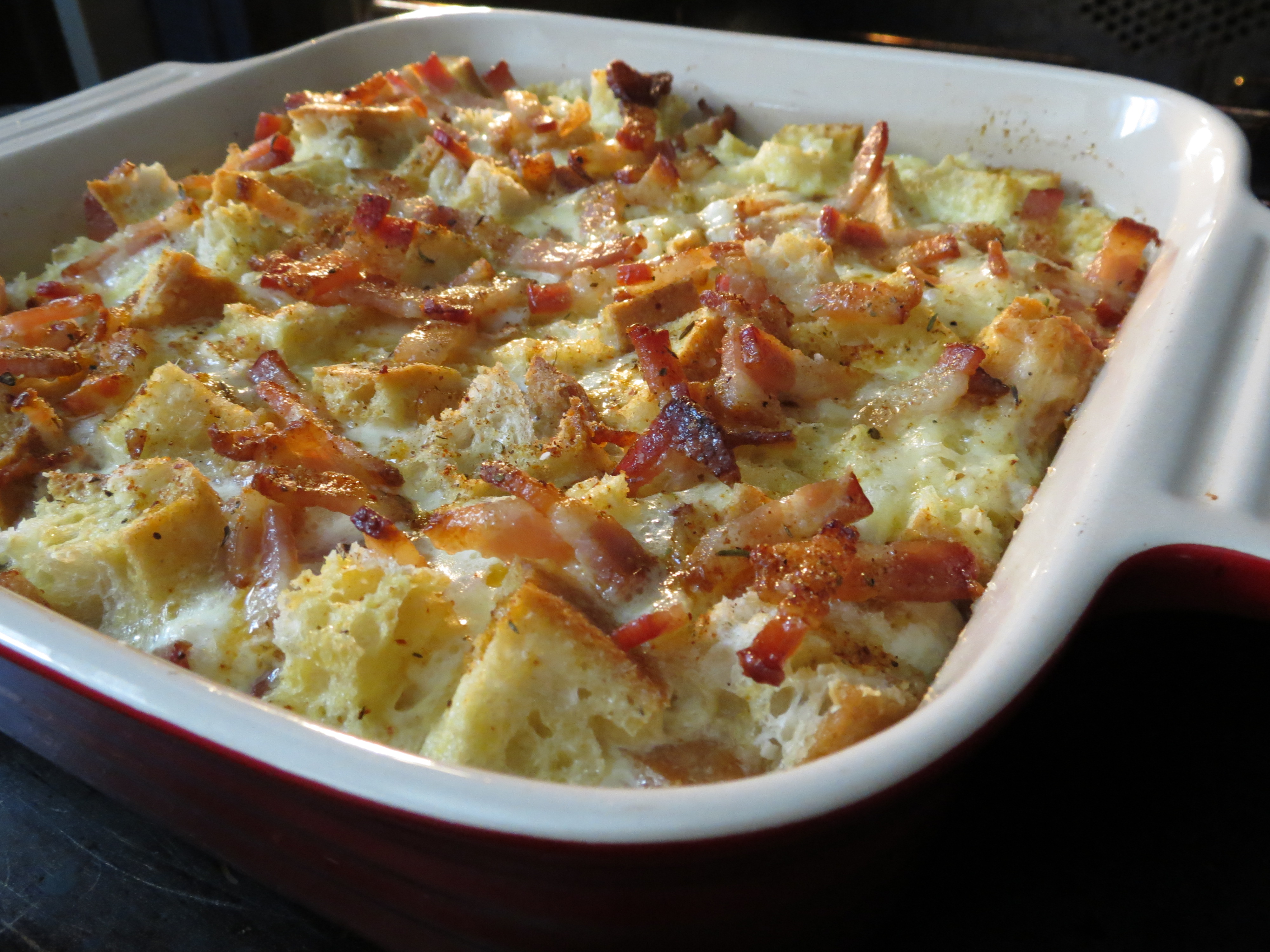 Sundays are typically "bacon and egg breakfast" kind of days at our house.  This Sunday is no different, only I have some leftover ciabatta to use up today, before it turns into a solid mass of bread where the only way it will be salvaged is by being turned into bread crumbs.  Mine still has a bit of life in it, but not enough to make good toast to serve on the side of a plate of eggs and bacon, so it will instead make its way into this strata.
Sunday mornings are usually reserved for grocery shopping, but today I'm house bound, glued to the TV set watching the olympics.  I wanted to get a good breakfast on the table for when Meat and Tater Man came home from the gym, without missing too much coverage of the big game.  I love stratas, because they are as versatile as they are easy to put together.  Stratas are named so because their ingredients are layered into a casserole,  and these layers then bake into a fantastic brunch dish, that can be served any time of day in my books.  Today it's my breakfast.  Tomorrow, it will likely be my lunch.
Think of this strata as a savoury bread pudding.  It's basically just an eggy mixture poured on top of some cubed bread, with a bit of cheese or vegetables mixed in for variety.  It's also a great way to use up your leftovers in the fridge.  This morning I had 3 slices of leftover bacon (an unusual scenario chez Chantal, but there you have it), some shallots almost past their prime, and a chunk of Gruyere that was making itself a little too much at home in my cheese keeper with its "hey, I'm here" scent.  
This strata was the way to go.  I don't even measure ingredients - eyeballing is good enough here.  I adapted this recipe from Clifford A. Wright's Egg and Bacon Strata, from his book Bake Until Bubbly.  He recommends using a good bakery loaf for your bread in this recipe, and I couldn't agree more.  The supermarket plastic pre-sliced stuff just won't give you the same texture and crispy edges than a good home made (or bakery) loaf of bread would.  You can use baguette, ficelle, or any hearty white or French bread.  You could also easily double the ingredients and bake this in a large casserole dish to serve up to 8 people.
Some butter (to grease a casserole dish)
2 cups cubed French bread or ciabatta
1 1/4 cups shredded Gruyere cheese
1 finely chopped shallot
5 large eggs
2/3 cup light cream 
1 tsp Creole seasoning (or your favourite seasoning blend, or salt and pepper)
3 slices of thick cut bacon, cooked and sliced
Preheat the oven to 350F.  Butter a 9 x 9 inch baking casserole.
In a large bowl, toss the bread cubes, cheese and shallot.  Arrange this mixture evenly in the casserole dish.
In the same bowl, beat the eggs, cream and seasoning until well blended.  Pour this egg mixture over the bread cubes.  Sprinkle the bacon on top.
Bake until a knife inserted into the centre of the strata comes out clean, about 25 minutes.  Serve hot.
Serves 3-4 
This is an article written by a member of the SheKnows Community. The SheKnows editorial team has not edited, vetted or endorsed the content of this post.
Want to join our amazing community and share your own story? Sign up here.