Authentically Irish or Not, Irish Soda Bread Is Tasty for St. Patrick's Day
The best thing about St. Patrick's Day is that it requires zero planning. No presents, no cards, no decorations, no relatives, just raise a glass of green beer and see if someone won't give a gentle pinch on the rear. But if at even the very, very, very last minute, you decide to make Irish soda bread, well, it may not be entirely authentic but it will be completely good.
Truth is, soda bread has -- what shall we say -- evolved? since leaving the Emerald Isle. The authentic Irish soda bread calls for no more than whole-grain flour (what was then, interestingly enough, the every-day flour, the more finely ground flour was reserved for special occasions), buttermilk, baking soda and salt. Raisins? They were for special occasions, too. Caraway? Um, no. (For more on the origins of Irish soda bread, see this Epicurious interview published on MSNBC.)
But that's okay. It's really alright for recipes to step sideways and turn upside down and become something entirely new, so long as we know their origins. It's the way of food, constantly changing and adapting and learning and improving.
Tara from Seven Spoons describes soda bread with lyricism:
"Ever-present on the Irish table, hearty, satisfying soda bread made its way to our plates, with its unassuming stature and nubbled crumb. Although its rough-hewn crust seems substantial, its cheeks are tender. Soda bread is heavier textured than a scone, and with a flavour more subtly-complex than the all-out buttery-ness of a biscuit." ~ Keep reading Unending Chorus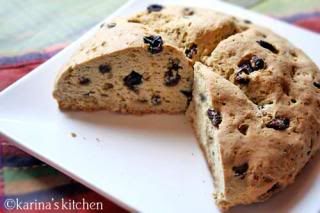 Photo by Karina Allrich of Karina's Kitchen
Indigo from Happy Loves Strawberry takes it further when she shares her recipe for Sodabread.
"Soda bread is the lazy baker's answer; it needs hardly any ingredients ..., no yeast, no rising/proving time, bakes in half an hour... plus you get flatmates wandering into the kitchen, drawn to the smell of fresh bread, with looks of wonderment on their faces. Paired with Cheddar cheese and homemade onion chutney ... I have to admit my ... loaf was engulfed embarassingly quickly."Just Cook It thought he was no baker. But then, as described in It's Spelt S-O-D-A-B-R-E-D:
"I discovered that there were breads that didn't need the accuracy of a microbiologist or the patience of a matchstick model maker. There were breads that didn't need yeast, didn't need a starter dough and, wait for it, didn't even need to be left to rise. It was like I'd been told, after years safely ensconced in the knowledge that he wasn't real, that Santa Claus actually did exist. Even more amazing was that these little loaves of leavened loveliness were amongst my favourite types of bread in the entire whole world. Sodabread, oh spectacular sodabread."
So let's check some of those variations, some straying not far from Irish shores, others crossing oceans.
Food Mayhem ~ Irish Soda Bread
Jessica didn't have buttermilk on hand so used a quick substitute. "The texture came out amazing, moist and spongey, and the soda bread tastes good."
Seven Spoons ~ Irish-ish Soda Bread
"Traditional Irish soda bread only contains flour, buttermilk, baking soda and salt. This version uses a mix of flours, along with oats for texture, and an egg for richness."
For the Love of Food ~ Irish Soda Bread
"... this recipe has extra special meaning to me. When I was growing up (in Miami), my across the street neighbor used to make us Irish Soda bread every St. Patrick's Day without fail ... There was no way to get her to give us this recipe. And, when we moved away to Texas there was no more Irish Soda Bread. Then, I moved to Germany and there was still no Irish Soda Bread. I finally got the nerve up to ask (again) for the recipe. And, guess what??"
The Kitchen Sink Recipes ~ Brown Butter Soda Bread
"Not only does this bread feature brown butter ... but it also uses minced woodsy rosemary and a rather obscene amount of fresh-cracked pepper, two of my favorite savory ingredients."
Cooking the Hard Way ~ Adelaide Bartow's Irish Soda Bread
"My mom has two recipe cards written in her mother's hand. One is for Irish Stew, the other is for soda bread. ... It's not too sweet or too cakey, and it's made with raisins, no caraway seeds."
Karina's Kitchen ~ Vegan & Gluten-Free Irish Soda Bread
"The combo of sorghum and millet flour gives this soda bread a lovely mildly sweet flavor. The potato starch gives it tenderness, moisture and lift. If you don't like caraway, try grated orange peel."
Tea and Wheaten Bread ~ Hallo'een Soda Bread
"I decided to make some Soda Bread today. Nothing unusual about that as it is a big local speciality and has been made in Irish households for generations. It is so quick and easy to make and is a wonderful recipe to corrupt. Today I took a notion to add apple to it. ... I also added some cinnamon and then as an afterthought I used maple syrup instead of sugar. The smell of it baking was wonderful. I was amazed at the taste. When I took it out of the oven I could hardly wait to get at it. Warm and dripping with butter I was immensely pleased with my innovation. Such a pity one can't copy and paste taste and smell."
And you?
And you, is Irish soda bread already in your repertoire? Leave a recipe or a link to a recipe in the comments!
BlogHer food editor Alanna Kellogg makes a quite traditional Whole-Wheat Soda Bread but this year stepped outside the norm to make Irish Soda Bread Muffins.
This is an article written by one of the incredible members of the SheKnows Community. The SheKnows editorial team has not edited, vetted or endorsed the content of this post.
Want to join our amazing community and share your own story? Sign up here.