This article was written by a member of the SheKnows Community. It has not been edited, vetted or reviewed by our editorial staff, and any opinions expressed herein are the writer's own.
If someone mentions slaw or coleslaw and your food brain immediately thinks cabbage + mayonnaise, maybe you've missed some of the new takes on coleslaw that have been popping up. For summer salad options, coleslaw now includes more possibilities than ever. And since the Fourth of July is tomorrow, here are some versions of coleslaw that will help you assert your Independence Day menu options.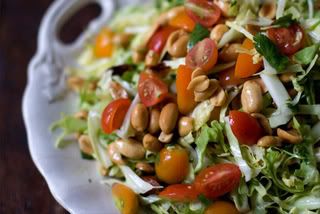 I really love the combination of cabbage and lime so the Lime and Peanut Coleslaw at 101 Cookbooks (pictured above) definitely caught my eye. The delicious-sounding Cilantro Slaw at Andrea's Recipes also has lime juice, and the cilantro plus lime combination is always a winner for cilantro lovers.
Another take on coleslaw that features lime is the Cilantro-Lime Broccoli Slaw from Gluten-Free Bay (pictured below.) This super-easy recipe starts with a broccoli slaw mix that's already pre-cut. The Broccoli Slaw at Dani Spies combines broccoli and napa cabbage in a slaw that's slightly sweetened with agave nectar with a few dried cherries and sunflower seeds tossed in for crunch.

At The Expatriate's Kitchen I found Tangy Kohlrabi Slaw, an interesting take on coleslaw without cabbage that's slightly sweet with a touch of mustard. One non-cabbage slaw that uses ingredients you may not have considered is Asian Slaw at Daily Bread Journal which has Asian pears and celery and a touch of rice vinegar. Another non-cabbage slaw that sounds nutritious and tasty is the Kale Slaw from In a Vegetarian Kitchen.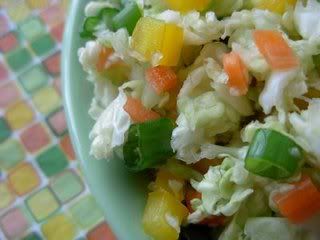 Plain white cabbage has its fans, but there are all kinds of cabbage varieties that can add extra interest to coleslaw. At The Well Seasoned Cook, Susan uses savoy cabbage in her Confetti Cole Slaw, (pictured above) with some color interest added by chopped red bell pepper and carrots. The Napa Cabbage Picnic Salad at Simply Recipes also sounds like a winner.

Even slaws with traditional cabbage can get a new twist, as The Kitchen Sink proves with Crunchy Coleslaw with Cayenne and Toasted Caraway Seeds. Another interesting slaw variation with cabbage is the Cabbage Slaw with Apples and Cranberries (pictured above) at Sidewalk Shoes. Finally, if you like creamy but don't like mayo, the Creamy Cabbage Slaw at Everybody Like Sandwiches uses sour cream in the dressing.
Okay BlogHer food lovers, now that you've seen all these interesting new takes on coleslaw, how about letting us know in the comments just what your favorite coleslaw variation is?
Kalyn Denny writes about food at BlogHer.com and shares her passion for cooking at Kalyn's Kitchen. This summer Spicy Mexican Slaw with Lime and Cilantro is the coleslaw Kalyn is currently loving the most.