Every spring fresh fava beans burst on to the culinary scene. They appear in markets and gardens, and of course food bloggers start writing about what they're making with favas. Interesting that favas would get so much attention, when by all accounts, they're fairly labor intensive to remove from the pods. Are they worth the trouble?
Unfortunately, I can't say from personal experience. The one time I scored some fresh fava beans while on vacation and was planning to try my luck at shucking them, I ended up leaving them in a hotel refrigerator. I'm not sure if they don't grow well in Utah or I just miss them, but I've never seen any for sale here. I don't know if I would have decided favas were worth the trouble, but every spring I start wondering about them again.
Some People Are Definitely Fava Fans:

Photo of Fresh Fava Beans from Hunter Gardener Angler Cook,
One blogger who definitely thinks favas are worth the trouble is Hank from Hunger Gardener Angler Cook, who says "Favas are my labor's love." His post on Fresh Fava Beans has good information on growing and shucking them, and his Fresh Fava Bean Spread sounds like a great way to use them.
Michelle from Bleeding Espresso makes Calabrian Sausage and Fava Beans and although she says "you have to *really* want to eat favas to go through the work involved" she ends up concluding "They are worth it, I promise."

Photo of Fresh Fava Bean Salad from Cookbook Catchall.
Sabra from Cookbook Catchall is also a fan and turns her fresh favas into the delicious-looking Fresh Fava Bean Salad you see above. She says "They are a bit of a pain to shell, but it's a mindless task and well worth the effort to uncover the glossy green gems."
Stephanie from Scrumptious Street raves about how much she likes the Fava Bean and Tomato Salad she makes and says " . . it's worth the work with the beans."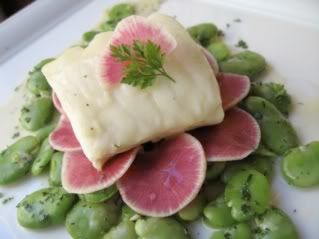 Photo of Fava Beans, Watermelon Radish, and Halibut from Ms. Glaze's Pommes d' Amour.
When she makes Fava Beans, Watermelon Radish, and Halibut with Buerre Blanc Sauce, Ms. Glaze says "Fava beans are worth it. And I look forward to them every summer."
At Food Blogga, Susan has nice photos to show the process of shucking the favas and says ". . . trust me, they're worth it." I think you'll believe her when you see the Fava Bean and Dill Crostini she made with her beans.
Umami Girl calls it The Year of Magical Beans and enrolls the whole family to shuck when she gets a lot of fava beans in her CSA box, and says ". . . favas continue to seduce me with their simple, earthy charms." This post has a recipe for Alice Waters Fava Bean Puree that looks just delicious.
However, Not everyone is convinced:
When Marisa tries out fresh favas and writes An Introduction to the world of Fava Beans at Slashfood, she says, "I enjoyed them, but I'm not sure they were worth the work it required to get down to the edible part of the vegetable."
At Exploring the Silver Spoon, Sara makes Fresh Fava Bean Puree and finds the process of peeling them is so labor intensive that she decides "I think it'd be difficult for a fava bean recipe to ever get a really high grade here due to all the shelling and peeling."
More About Fava Beans:
How to Shell Fava Beans by Molly Watson at About.com
Fresh Fava Beans are a Delicious Sign of Spring at BlogHer
Have you tried fresh fava beans, and if so, did you think they were worth the effort? Please let us know your fava bean experiences in the comments, and if you have a good recipe for fresh fava beans, do share!
Kalyn Denny shares her passion for low-glycemic cooking at Kalyn's Kitchen where she's still hoping to try fresh fava beans, but is making salads with edamame in the meantime.
This is an article written by a member of the SheKnows Community. The SheKnows editorial team has not edited, vetted or endorsed the content of this post.
Want to join our amazing community and share your own story? Sign up here.