This article was written by a member of the SheKnows Community. It has not been edited, vetted or reviewed by our editorial staff, and any opinions expressed herein are the writer's own.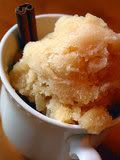 Faith from the food blog Apartment Therapy has the perfect recipe for all of us who are pining for fall recipes only to find ourselves in the midst of record-hot October temperatures.
She writes: "There's the sweet wild taste of apple cider, with a smooth and silky texture, and the spices come through at the end for warm autumn finish." ~ Have you figured out what Faith made for a DIY wedding menu? Get the recipe for Apple Cider Sorbet
What are you doing with apples and apple cider this fall? Leave a link to your recipe (or a recipe itself) in the comments.
It's an Apple a Day Week!
Just today, BlogHer food editor Alanna Kellogg shares her mom's recipe for Baked Apples.