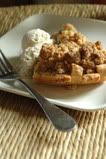 Kris from the Minnesota food blog To Be Mrs Marv was disappointed in the fall's first Dutch Apple pie. Then Marv chimed in and inspiration struck!
Kris writes: "The first one I made was simply - boring. No spark at all. Nothing to make a girl sit down and say, "DAMN, I LOVE PIE." I love pie, so I want a pie that's worthy of my undying affection. I put the question to Marv. He made a thinking look with his face and said, "apple puree." I thought to myself, "gosh, I'm glad I married you." And then thought, "Yeah… apple puree sweetened with caramel sauce… oooooh.. buttermilk-caramel sauce, with applejack brandy and five spice rather than cinnamon. That will do it. Wow, he is convenient."" ~ To hear the inspiration for the 'crumbly bits' on top plus the recipes for Kris' favorite pastry, and yes, the whole I-love-pie pie, read Dutch Apple Pie a la MN
What's in your apple oven this fall? Leave a comment or for more ideas --
It's an Apple a Day Week!
~ Coming soon: Apple Homage IV ~
BlogHer food editor Alanna Kellogg tucks apples into Power Food Broccoli Salad and Swedish Red Cabbage.
This is an article written by a member of the SheKnows Community. The SheKnows editorial team has not edited, vetted or endorsed the content of this post.
Want to join our amazing community and share your own story? Sign up here.