This article was written by a member of the SheKnows Community. It has not been edited, vetted or reviewed by our editorial staff, and any opinions expressed herein are the writer's own.
Below are some of my favorite foodie haunts in Paris. This list is a curation of places I have tried over the years, some visits better than others, but like Paris promises again and again, the food is consistently good regardless of what district you find yourself wandering around in. An oldie but goodie I first discovered several years ago is L'Avant Goût Restaurant on 26 rue Bobillot.
L'Avant Goût Restaurant on 26 rue Bobillot, 75013 Paris. 01 53 80 24 00.
The place is very small and they even say it themselves, "the decor is not the most enticing," however its charming and quaint, and they have authentic wooden floors that make you feel as if you've walked in from the country not the busy streets of Paris.  It's also a little out of the way and not in the more central, tourist parts of the city.
When I first went to this restaurant, they didn't have a menu so you had to speak French and order from a chalkboard, the way it should be mon cherie.  Chef Christophe Beaufront has an authentic French home cooking but inventive culinary style. He uses fresh ingredients in his dishes and yummy citrus, spices, ink and olives in his salad dressing mixes.
In traditional French style, there are plenty of meat dishes, foie gras, pork, beef and more. This is the kind of place where you should say "chef's choice please," and surprise me with something that will knock my socks off, or as close to that request as you can possibly communicate en francais.
Vaugirard on 59 avenue de la Motte Picquet in Paris. 01 47 34 11 64. Give this one a try for authentic French cuisine – romantic ambiance but also good for "out to impress with great cuisine" for business clientele.
Nos Ancient Les Gaulois on 39 Rue Saint-Louis en l'Île in Paris. 01 46 33 89 59. This is a fun place for authentic traditional French cuisine. Think old wooden tables and a price fixe menu at €40, where they offer you a choice of beef or lamb kebab, rib steak, slice of leg of lamb or lamb chops. Tucked away in the heart of the Ile Saint-Louis, you get a taste of Medieval Paris.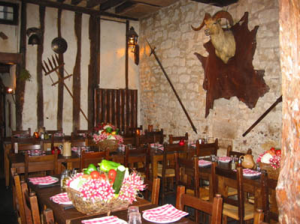 A novelty for Paris when it opened, the idea was to create a friendly but easy going atmosphere with all you can eat vegetable baskets, buffets, steaks charbroiled in the dining room fireplace, wine poured straight from wine barrels, cheeses and desserts. They also have guitar accompaniments, in the tradition of authentic troubadours.
The restaurant is set in a 16th century building (one of the oldest on the Île Saint-Louis), which had once been the gatehouse for an ancient churchyard.   The original vaulted cellar tavern is now used as a dining room, but the festive spirit of former Gaulish soirées is still prevalent and you feel like you're dining in another era in time.
La Coupole in the 14th on 102 Bd du Montparnasse 75014 Paris. 01.1 43 20 14 20.
The chef is Jean-Philippe Bourgueil who began his apprenticeship at age 14 at Chateau de Varenne Islands to St. Hilaire. At 16, he became one of the youngest committed in France and developed his skills in the restaurant at the Eagle Croissy Beaubourg in Seine et Marne. Also known for fabulous stews, he has worked throughout Paris including well known Parisian brasseries like the Boeuf sur le Toit, the Vaudeville and Julien. The venue of La Coupole is historic with beautiful pillars which are covered with imitation marble, mosaics, all of which are Cubist-inspired. The pilasters are covered with paintings by masters of the small "Roaring Twenties". Watch the video of the head.
Chez Fernan, on rue due Christine, 01.43.25.18.55.
Imagine red and white checked table cloths and traditional French cuisine, including dishes like Duck Terrine l'armagnac, Salmon Carpaccio with olive oil or beef tartare. A la carte, you can get standard foie gras for €14, duck with gratin dauphinois, beef borgoinon, a foie de veau with a strawberry vinagrette, lamb and scrumptious salads. In the summer, you can also dine outside.
Restaurant Le Boomerang, Fondue, 3 rue Gregoire De Tours, Paris. 01.43.26.36.03.
This place is for fondue among other dishes.  Although reviews over on Qype seem to have given this place several negative and one star reviews, my one and only experience with the place was okay.  You can get mussels, beef, cod in mustard sauce or steak au poivre for your main and a creme caramel for dessert for around €20 or so.
For the rest of this restaurant and foodie write-up including photos, click here and for more on Food/Wine, here and on France and food, here.
Renee Blodgett, Founder: Down the Avenue, We Blog the World, Magic Sauce Media and Magic Sauce Photography