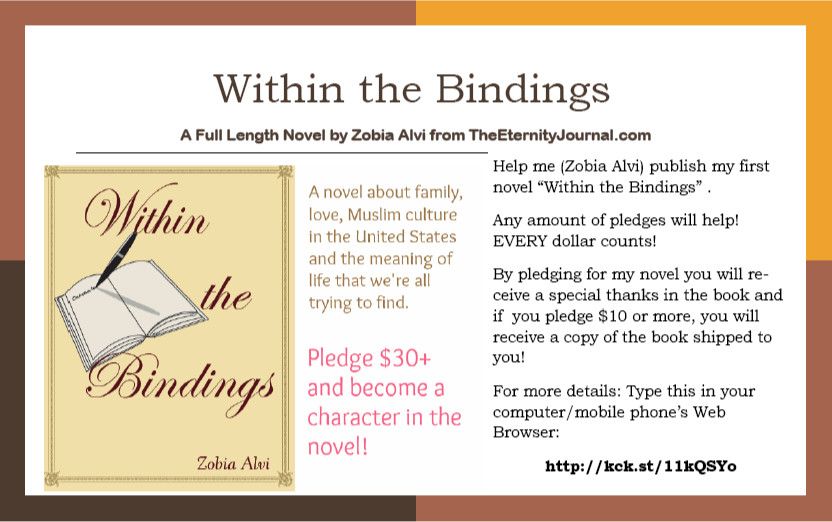 I'm writing a novel & although writing it is a challenge on it's own. Publishing it is an even bigger challenge! Beyond that, I'm funding my novel through Kickstarter and that's whole other sea to swin in! Seriously.
Let me tell you a bit about my novel, my novel is titled "Within the Bindings" and is about family, love, Muslim culture in the United States, and the meaning of life we're all trying to find.
Here's a little synopsis:
After becoming a successful entrepreneur and living a comfortable lifestyle, Zara Abudallah-Cummings knew she had what she had always prolonged for. She had earned all of her success and changed almost every aspect of her new beautiful life. The only thing Zara never changed about her life was the way she perceived her past. Her past shaped her; it created the person she became. She kept her past in her heart and mind at all times. And every now and then, she would think about the life she lived.Mistakes were made and her dearest were deceived, but Zara never failed to see the light of it all.
Her family was clueless as to what secrets she kept from them. Little did she know, she was not the only one with a secret. She believed her past was the wall that stood between her and her family, but as her journey to life continues, she learns it was "the outsiders" that gradually tore her family apart. The more she opened herself up to others, the more detached she became from her family.
Based on some of my personal experiences and all the wonderful people I owe my inspirational soul to. A story about family, true intentions, and loyalty in a generation that has forgotten the value of love and true friendship. A story about Muslim families adjusting to the westernized life in America, while trying to keep the tradition of family alive. Told in the perspective of Zara herself portraying people in her life that have left an imprint on her heart, but had her push away from those whom she truly loves.
This novel means a great deal to me! I've been writing it on my own for a year now and in order for me to continue to the next big step which is publishing, I have to fund it through Kickstarter! Interested in checking out my novel on Kickstarter click here: http://kck.st/11kQSYo
I'm also hosting a contest and giving away a $25 eGift Card to Barnes & Noble to whoever helps out the most in sharing my project with the world! You can check that out here: http://www.theeternityjournal.com/2013/08/share-it-to-win-it-win-25-egi…
Thank you so much for reading!
-Zobia
This is an article written by a member of the SheKnows Community. The SheKnows editorial team has not edited, vetted or endorsed the content of this post.
Want to join our amazing community and share your own story? Sign up here.