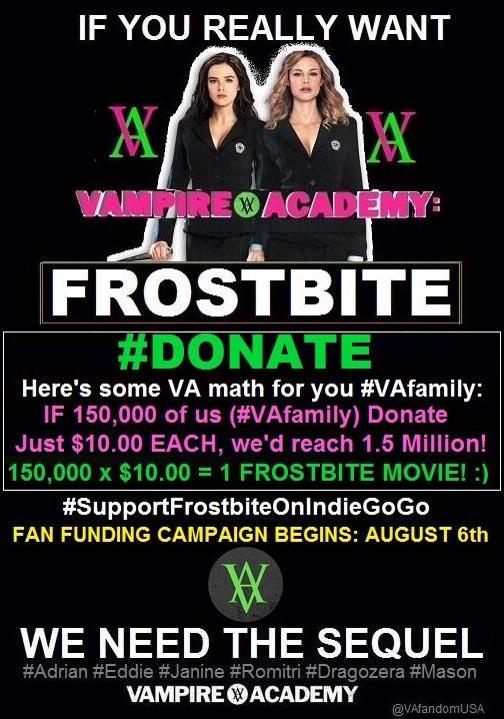 The time has come VA Family, the campaign to bring the franchise back to life and fun the second film, Frostbite, will begin on Wednesday thru the website IndieGoGo. Producers for the film made the announcement today thru the MTV website. They are wanting to raise $1.5 million in a monthlong campaign which would show the studio that there is a still an audience out there for this film (to put it in perspective, Veronica Mars made well over $5 million in the month they had their active Kickstart campaign going). So while the number may seem daunting to some, it is extremely doable! It helps that the Vampire Academy fanbase is extremely devoted and are wanting Frostbite to be made. The majority of fans are in favor of a campaign to prove to the studio how important the film is to them and this is the time to show it!
According to the MTV article: http://www.mtv.com/news/1886651/vampire-academy-sequel-frostbite-indieg… 
Producer Mike Preger said that the decision to move forward with the crowdfunding campaign was totally motivated by the fans.

"The fans mean everything to us," he said in an email to MTV News. "We decided to move forward with 'Frostbite' because of the fans, and we want to give them the purest book to film adaptation possible. We have a script by Piers Ashworth [screenwriter of "St. Trinian's"] that does just that. We want to give them exactly what they expect."

Producer Deepak Nayar agreed, and said that fans so wanted a sequel that they had actually suggested turning to crowdfunding.

"Our financiers were willing to move forward ONLY if we could show them the fans would support us," Nayar said. "It's not an exaggeration to say that we would not be here without them."
Also contrary to what the MTV article says, no information was given on the original cast and the producers haven't said anything in regards to any cast changes. Chances are, the original cast will be back for the second film so don't let the MTV article get you discouraged! 
Another thing to mention about the campaign is that the donation you make DOESN'T come out of your bank account/credit card/etc.. until the campaign is over and successful. So no you won't lose any money if you contribute and the campaign isn't a success (I mean it will be a success but still). So to emphasize again, you are not giving money right away, you basically pledge what you want to contribute (and know that you can contribute) and at the end of the month when things are a success, they will then credit your account. Another thing that is interesting about taking part in these campaigns is that you can continue to add to your contribution! So say you had a little extra money and wanted to add it to the $20 you already contributed, well you go in and you edited your pledge to add the extra money. Like I said, you have the month to add even more to your contribution (this is generally the way I go, I'll do a $100 contribution and casually add in more of the extras...I mean do I really need starbucks every single day?) So yes, even if you contribute $5 every week you are still adding money to the campaign! Also once the campaign hits the $1.5 million it needs DOESN'T mean you need to stop contributing! Keep up the great work of funding the film by adding in more funds, more money equals more things that the producers can do with the film! 
Another thing about contributing, if you contribute certain amounts (which this will all be revealed on Wednesday) you will have the opportunity to get a walk-on role with a certain pledge, exclusive content, apparel etc... so your campaign money isn't just going away and you aren't getting anything! You'll be able to get things that others would only dream of getting. When the campaign starts on Wednesday you will see those options available on the website with how much you will need to pledge to get that deal. 
The power is now in your hands VAFamily, it is your time to shine and show everyone that you guys are a force to be reckon with! The producers love you guys and believe in you, so show them that you guys are amazing!! You guys can do this and bring this franchise back to life!
Oh and by the way producers of Vampire Academy, I am waiting on that official endorsement (hahaha)
Samantha McAllister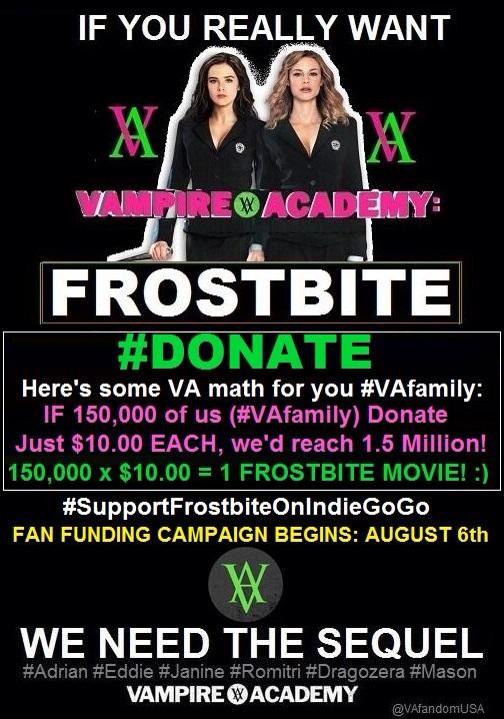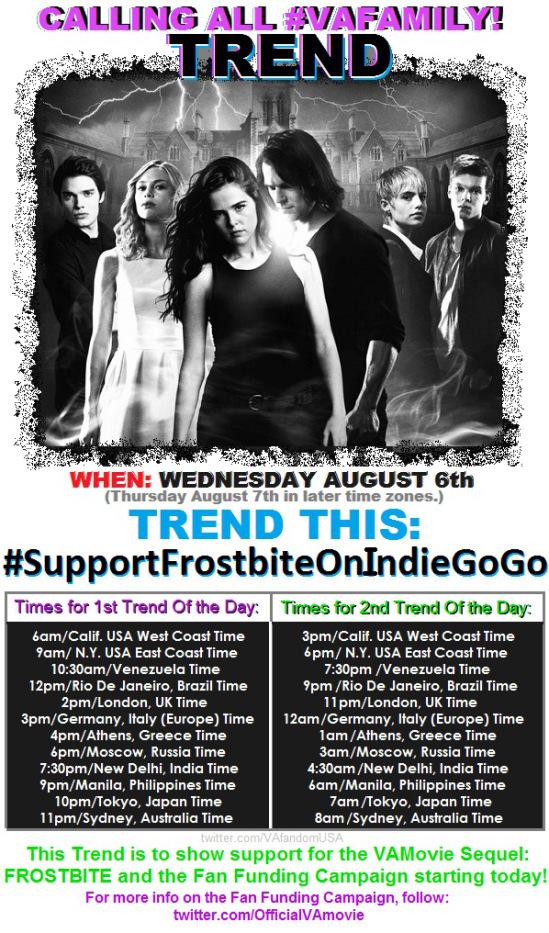 This is an article written by a member of the SheKnows Community. The SheKnows editorial team has not edited, vetted or endorsed the content of this post.
Want to join our amazing community and share your own story? Sign up here.