The American Library Association is currently celebrating Teen Read Week, a week devoted celebrating young adult literature. I'm a big fan of YA, and it makes up a large chunk of books I read each year so really, I love any excuse to read more of it.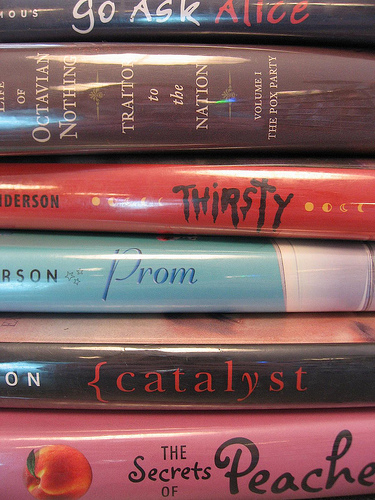 "I'm not a teenager."
"I didn't read teen books when I was a teen, why would I now?"
"Aren't teen books kinda ... beneath you?"
I've had all of these things said to me when people find out that I read young adult literature.
To be honest, until people started saying these thing to me, I hadn't thought about it much. My knee-jerk response was to say, "Why wouldn't I read it?" People wanted more of an answer than that though and I'm not the only one that has found themselves thinking about it. I've reads two posts in the last few months that together really sum up why I read YA. QuentinFinch wrote a post titled "Why I Read YA" that is one part of it:
I seek out good writing, compelling characters, and interesting stories wherever they may be.  Do I still get sidelong glances from friends when I mention a title or they glimpse the cover of my latest YA read?  Of course. But I can't imagine my life without books like The Hunger Games or The Golden Compass.  I wouldn't want to live in a world where those reading experiences were closed off to me, simply because of my age.
And from Liz B at A Chair, A Fireplace & A Tea Cozy, on why she reads YA:
I know life sucks and is full of disappointments and compromises, I don't need that in my books, and I don't need to be lectured about it in books, thankyouverymuch. But I also known life can be wonderful, with opportunity, luck, chances, and happiness, and YA gives that to me. (It's also why I read genres such as romance and chick lit. I read mystery because I like to solve problems. And that's enough self-examination.)
These posts reminds me of a conversation I had with a friend a couple of years ago. This particular friend is another book blogger, and it was actually the first time we had met in person. What started off as a brunch date ended being brunch, shopping and then high tea.  Being book bloggers, we often kept coming back to the topic of books. She hadn't really read any YA since she was a teen herself and at the time I was reading a heck of a lot of it, even more than I do now. She asked me what it was that I liked about YA so much. She was really the first person to put me on the spot and make me really think about it. I mean, I just like good books and a lot of these books, as QuentinFinch says, are simply just good. Isn't that reason enough? But as I kept talking to her that day as we ducked in and out of stores, I realized that it was more than that they were just good. I came to a conclusion much like Liz's - I like these books because while they often deal with topics every bit as gritty as much lauded literary fiction, they end differently. They end with hope.
I'm not saying that all teen reads have happy endings. They don't. Nor do they all have endings that I think are right. Generally speaking, there's something in the endings where you have a glimmer of hope that things will work out some day, that the people you've come to know will go on to finding something akin to happiness. There's a lot to be said for hope. Where would we be without it?
Whether you are a long time lover of YA or haven't read it since you were part of the target audience, why not pick up a teen novel this week?
Contributing Editor Karen Ballum also blogs at Sassymonkey and Sassymonkey Reads.
Photo Credit: MontereyPublicLibrary.