Ever since the publication of a certain 2005 novel in which a sparkly centarian disguised as a teen heartthrob seduced a dead-eyed transfer student in a tree (hint for those living underground, or in exile -- it rhymes with "Schmilight"), vampires have ruled the pop culture landscape, spawning TV shows, indie-rock bands, and some very creepy Etsy products. But if recent media trends are any indication, there's a new It Creature swaying stiffly into town.
That's right: Zombies. They're everywhere, and they're coming for your braaaaaaaaaaaaiiiiiiins.
Okay, so they've been lurching into the cultural mainstream for awhile now (hey -- they move slow, okay?) George A. Romero made his genre-defining horror film, Night of the Living Dead, in 1968, and the Cranberries were singing about zombies before Taylor Lautner was potty-trained. "Zombie walks" -- costume parades that tend to happen around Halloween so that fewer people freak out -- originated in 1991 and are now so popular that there is even a world record for most participants (894).
And UrbanDead, a multiplayer online role-playing game with its own intricate wiki (think an early version of The Sims, with cannibalism) went live -- no pun intended -- in 1995. But the maggot-eaten masses gained momentum last year, with the release of Zombieland, which surpassed Dawn of the Dead to become the highest-grossing zombie movie in U.S. history, and the addictive PopCap game Plants Vs. Zombies,* recently released as an app for iPhone and iPad.
*In the game, users hurl botanical weapons, with the help of a neighbor named Crazy Dave, to keep a zombie mob at bay. The description on the Apple site says, "Get ready to soil your plants!" but I think they mean "soil your pants," because that's what I'll do if my pea-shooter fails me.
One indication that the zombie trend is still undead is AMC's new hour-long thriller Walking Dead, which premieres on Halloween. Based on a popular comic book series by Robert Kirkman, the series follows a county sheriff trying to protect the remaining survivors of a zombie apocalypse (good luck with that, guy). The show stars Andrew Lincoln -- best known as the knee-knockingly hot secret admirer of Keira Knightley in Love, Actually -- and, presumably, a pack of zombies with the emotional range of AMC's other undead villain, Betty Draper.
Pride and Prejudice and Zombies, a movie version of last year's bestselling book mashup of a Jane Austen novel and senseless flesh-eating violence, is currently in development, as is Cell, a screen adaptation of Stephen King's apocalyptic tale in which smartphones lead people to kill each other (and no, to my knowledge none of them have Ke$ha ringtones, which might be considered just cause).
But perhaps the most troubling sign of zombie infiltration is the way they've taken over one of the linchpins of American culture: online shopping. Click on over to this section of the Sears website if you don't believe me. What's safer than Sears, right? It was founded in the Midwest, it smells good, it's filled with shiny things, and there are usually family-size bags of peanut butter M&Ms by the cash registers. But on the landing page there are brains! Inside a Kenmore fridge! On a bed of lettuce! The blue-shirted sales staff looks even more out of it than usual! And you can change the language to Espanol... or Zombian.
It's a seasonal meme (we hope). But all signs indicate that we'll be seeing a lot more zombies, even after October 31. They may not be as sexy as vampires. They may be less coordinated and their faces may be more full of holes. But hey, at least they're brainy.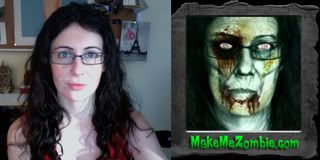 (Above: The author and her zombie likeness from MakeMeZombie.com. Looks like Liz Lemon went dumpster-diving...)
What do you guys think? Will zombies ever be as big as vampires? And more importantly, will we ever see them naked on the cover of Rolling Stone?
This is an article written by one of the incredible members of the SheKnows Community. The SheKnows editorial team has not edited, vetted or endorsed the content of this post.
Want to join our amazing community and share your own story? Sign up here.