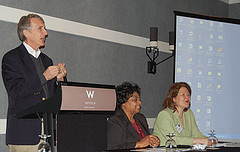 In just 48 hours, Shirley Sherrod became a household name for those who read political blogs and follow the news. Sherrod, a long-time advocate for farmers, was the State Director for Rural Development in the Department of Agriculture in Georgia until Monday of this week, when right-wing propagandist Andrew Breitbart posted a deceptively-edited clip of a speech she gave to a local chapter of the NAACP last March on his website, BigGovernment.com.  The clip gave the impression that she had discriminated against a white farmer because of her anger over injustices black people had experienced over the years. The Department of Agriculture promptly fired her; the NAACP promptly condemned her, and FOX News personalities seethed with indignation as they played the clip over and over again.
Then Tuesday, everything changed because a few journalists did their jobs.  They bothered to do some research and ask Sherrod for her side of the story, spoke to people who actually knew her, and took the trouble to find the farmer referred to in her anecdote. The first decent piece of reporting I saw on the story came from Tony Harris at CNN on Tuesday morning:
Like CNN, the Atlanta Journal-Constitution had done some actual reporting, and they, too, spoke to the family whose farm had been saved with Sherrod's help. They spoke to her family to learn about the experiences that shaped her -- especially the murder of her father, allegedly by a white neighbor who was never prosecuted.
Other friends, family and colleagues rallied to her side with testimonials such as this letter from the Federation of Southern Cooperatives/Land Assistance Fund, her former employer:
"Shirley Sherrod in her remarkable career has been one of the most active practitioners in assisting untold numbers of black and white farmers to access the credit, conservation and other programs at USDA. Shirley has essentially been an ambassador for the USDA in her work at the Federation of Southern Cooperatives and as Georgia State Director of Rural Development. If anything, she deserves to be honored for this work and not falsely condemned and forced to retire in disgrace. "
After the revelations, the NAACP recanted, made the whole speech available, and asked Secretary of Agriculture Tom Vilsack to reconsider Sherrod's firing. On Wednesday, Vilsack apologized, as did White House Press Secretary Robert Gibbs. As of this writing, Sherrod was reportedly considering whether to accept a new job offer from Vilsack.
FOX personality Bill O'Reilly apologized for not doing his homework.
Breitbart  said he didn't anticipate that Sherrod would be fired. On Breitbart's site, Editor-in-chief Michael Walsh said that while Sherrod might not have been racist, her audience was because they expressed verbal agreement when she shared her past resentment. However, if you watch the whole video, she prefaces her story by explaining that she wants to share how she had overcome that resentment, and the loudest acclamation comes as she says that she learned that the plight of the poor was what mattered, not race. (By the way, blogger Ann Althouse is perturbed by the overtly religious tone of her remarks, although she found Sherrod's personal narrative compelling.).
Once upon a time, there was a good chance that a story like this would never have seen the light of day, because any reporter or editor worth their pay who was presented with Breitbart's tape would have done a little investigating before running with the story. Once upon a time, the fact that Breitbart had been associated with the phonied-up videos that had been used to bring down ACORN would have tainted him as a source. But as the Project for Excellence in Journalism's State of the News Media report for 2010 reports, cable shows featuring opinionated journalism (and sometimes pseudo-journalism) garners more money and ratings than straight news channels, such as CNN.
Rachel Maddow told her viewers last night that Fox's coverage was part of its larger pattern of "scaring white people for fun and profit" -- and conservative political advantage. On the PBS Newshour, David Challian, PBS NewsHour's political editor, said the Administration's behavior shows their sensitivity to the 24-hour news cycle:
"Usually, pundits react to things quickly, and perhaps some political candidates, but not usually the White House and the administration. But it shows the change in our society. This administration, specifically this president, he goes out there day after day bashing the cable channels and all the chatter and the punditry. And he says he pays no attention to that.

"This is a case in point, no, they pay so close attention to that hour-by-hour news cycle that they even made uninformed decisions about firing someone in their administration based on that cycle."
But there are two other lessons here that we would do well to note as bloggers if we don't want to be manipulated into spreading lies and helping to further degrade the quality of political discourse in this country. First: What Breitbart and his minions have been doing fits the classic description of propaganda techniques advanced by the Institute for Propaganda Analysis in the 1930s. In his book, Propaganda and Democracy: The American Experience of Media and Mass Persuasion, (Cambridge University Press, 1997), J. Michael Sproule lists the seven basic propaganda techniques identified by the Institute:
Name calling -- applying bad names, such as "racist," to an opponent to evoke fear.
Glittering generalities -- describing the propagandist's ideas in terms that are associated with virtues such as freedom and justice, without qualification.
Transfer -- cloaking the idea that you want to sell in terms that are associated with something that is already accepted and admired. This is a common advertising technique -- think of how often print ads for cigarettes use settings that we associate with fresh air and good health,
Testimonial -- getting a respected third party's endorsement for an idea.
Plain folks -- "When members of a society's political and social elite court the public by appearing to be just ordinary folks and therefore wise and good." Think of the marketing of Sarah Palin, John Edwards, Bill Clinton, and yes, Barack Obama.
Card-stacking -- selectively using half-truths, omissions and distractions to distort and avoid the facts. That's the technique employed in the Sherrod video.
Bandwagon -- getting people to go along with what appears to be a popular trend.
Obviously, not all of these propaganda techniques are inherently evil. There's nothing wrong with a testimonial in and of itself, for example, but it is not a substitute for facts and reason at the core of responsible reporting and argument. 
Second, while Breitbart said that the NAACP, not Sherrod, was his intended target, she is part of a larger story that is another flash point in a war being waged by some conservative partisans. As Rachel Siajda at Talking Points Memo helpfully details, Sherrod and her husband are plaintiffs in one of many lawsuits filed on behalf of black farmers who had been subjected to discriminatory lending policies for decades by the USDA. The Sherrod's suit was on behalf of themselves and a community land trust they founded, New Communities, Inc., a communal farm modeled on an Israeli kibbutz. At one point, New Communities reportedly spanned 6,000 acres and boasted a farmer's market, smokehouse and mill. They lost the land in 1985. Their suit alleged that lending discrimination played a decisive role in that loss. 
In a 1999 Consent Decree, (.pdf)  the USDA promised to pay millions of dollars to more than 400 plaintiffs. In July, 2009, just before she went to work for the USDA, Sherrod and her husband led a group of black farmers who obtained a $13 million judgment from the USDA, according to a statement from the Rural Development Leadership Network. As part of that judgment, Charles and Shirley Sherrod were each awarded $150,000 for pain and suffering.
In February, the USDA and the Justice Department announced a second $1.25 billion settlement, known as "Pigford II," to resolve the remaining claims, contingent upon congressional appropriation. Congress will soon vote on funding for Pigford II, and Siajda notes that some Republican lawmakers don't cotton to the idea:
"The USDA settlements with African-American farmers are a longtime bête noire of the right, which they deem a giveaway to a core Democratic constituency. It's not clear whether Brietbart's release of the video was specifically intended to hurt the chances of other African-America farmers to receive recompense from decades of discrimination that caused them to lose their farms, but conservatives immediately used the video to attack the settlement. The discrimination claims, known globally as the Pigford settlement,"
In his statement on Pigford II, Vilsack argued that the settlement was part of the hard work needed to "address USDA's checkered past."  He also described the agreement as a "full and final class-wide settlement." You can follow updates on the Pigford case here. 
These lawsuits are among many issues related to rural development and agriculture policy that aren't adequately covered by national news organizations. They are in dire need of responsible and informed coverage.
Finally, the Shirley Sherrod episode is evidence that and ideologically-driven bloggers and news shows are thoroughly integrated into American civic discourse. So far, irresponsible actors such as Breitbart have been free to spew their venom with impunity. That may be changing, if the recently-filed lawsuit by a former ACORN employee against Breitbart's colleagues, James O'Keefe and Hannah Giles, is any indication.
But that shouldn't be the only sanction. There ought to be a loss of legitimacy and credibility attached to someone who has proven himself to be a tainted source of information. We bloggers who seek to do the job with integrity need to draw a bright line between this kind of nonsense and what we do. It has nothing to do with politics; it's about decency. This repugnant behavior will only stop when it doesn't work any more. 
Images of Agriculture Secretary Tom Vilsack and White House Press Secretary Robert Gibbs from PicApp.com. Image of Shirley Sherrod from the USDA's flickr photostream.
Kim Pearson
BlogHer Contributing Editor|KimPearson.net|