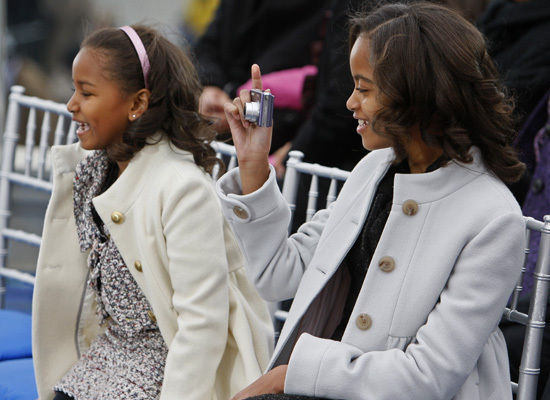 So here is the question: do we take the Sasha and Malia Obama dolls as shameless profiteering, or do we take the dolls as part and parcel of wanting to celebrate everyone's favorite new family?
To be honest, I'm hard-pressed not to see this as pretty shameless. But, at the same time, my perusal of the comments at sites like Huffington Post gets me feeling a little bit suspicious in the other direction. Most of the comments there and elsewhere, are pretty, well, poopy. A little more mean in spirit than snark; a vague hostility whose target is unclear. I can't quite put my finger on it.
While poking about, sussing out my thoughts, I come across this website, called Dolls Like Me.
I must say, in the context of this site, Sasha and Malia dolls resume being awesome. Now they remind me of all the dolls so many Americans have wanted to exist for so long: black dolls, relevant dolls, gasp-- dolls like me!
(Or maybe you.)
As you might know, "like me" has a solid history as a catchphrase for describing the dilemmas faced by parents of non-white children in the United States. One of its most well-known uses is probably Bill Cosby's PSA, "A Boy Like Me,"which describes the negative ways black children are affected by living a world in which cultural objects of affections--dolls, stars, book characters, for instance--are all white. 
Also, in 2007, a young black filmmaker named Kiri Davis picked up on the Cosby line, and produced a short independent film titled, "A Girl Like Me."
(The Cosby and Davis videos are at the end of this post; I've also said more them here.)
So, I guess as with so many products in our world, it's what we do with it that matters, right. So, yeah, you better go and buy a doll. For yourself, for that special someone, for Larry King's son (did you see this, that after Obama's inauguration, his son has declared that black is "in," and that he wants to be black? Let me know how it works out, player.)
Click here to see the Davis and Cosby videos.
This is an article written by a member of the SheKnows Community. The SheKnows editorial team has not edited, vetted or endorsed the content of this post.
Want to join our amazing community and share your own story? Sign up here.