Our Stewart family's horseback Easter egg hunt has become a tradition that we have celebrated for the past seven years, ever since we moved to Bear River City.  Easter is one of my favorite holidays and horses are my favorite animal, so it just seemed natural to put them together.
I tell my adult children, "I don't care if I have to share you on Christmas and Thanksgiving, but I want you for the Saturday before Easter."  And they come, sometimes bringing friends or other family members.  Each year it seems our family changes and grows and we plan our Easter egg hunt around those changes.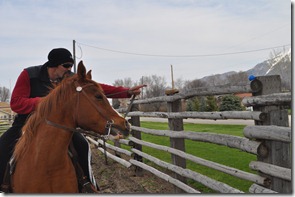 To make things more fair for the inexperienced and younger riders, Uncle Steven and I hide the eggs according to color. Each rider has a different color or style of egg.  For instance, last year we had basketball eggs for Kory, purple eggs for Megan, football eggs for Jim, chicken shaped eggs for Brynna, pink eggs for Janie, and so forth. 
We've been collecting eggs for years, and since we ask everyone to leave their eggs and just take the candy home, we have quite a collection.  Assigning each rider their own color makes it possible for us to hide the eggs according to the rider's ability.  Uncle Steven especially likes to hide eggs in unusual places- like hanging them from tree branches.
A few of our family members are experienced riders and we love hiding their eggs in difficult locations- over ditches, in trees, through gates and around obstacles such as wood piles and water hazards. For our lower level riders, we have a rule that you have to be touching some part of your horse when you pick up an egg. This makes it possible for riders with less experience to get off their horse to get an egg.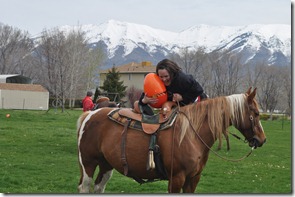 Last year we added "jumbo" sized eggs to the hunt and they sure made things more challenging and interesting .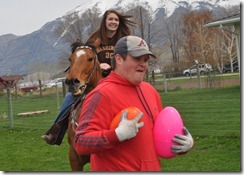 Read more about this fun Easter idea at
http://familyreunionhelper.com/blog/2012/03/saddle-up-for-an-easter-egg-hunt-on-horseback/
This is an article written by a member of the SheKnows Community. The SheKnows editorial team has not edited, vetted or endorsed the content of this post.
Want to join our amazing community and share your own story? Sign up here.