Portlandia Returns With Even More Hilarity
A year ago, a glimpse into the goings on of the 21st Century Pacific Northwest was viewed. And with this glance came hilarity. Fred Armisen of SNL fame, Carrie Brownstein former singer and guitar player for Sleater-Kinney, and director Jonathon Krisel let the rest of the US in on the marvels of the cultural phenomena taking place within the wonders of Portland with the sketch comedy show Portlandia. And as a PNW resident myself, watching this brief six episode series on IFC had me hooked with five little words, "Put a bird on it."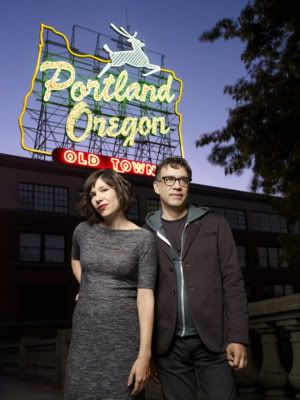 I didn't grow up in the PNW, let alone on the West Coast, but as an East Coast transplant, I quickly immersed myself in what it meant to be a coffee slinging, hipster band loving, hiking in the forest, put a bird on it kind of girl when I moved to Seattle. Simply put, it's a different world out here, where eccentricities, dark rimmed glasses, drive thru coffee huts on every corner, and a general acceptance of differences is the norm. And Portlandia gets this. That's what makes this show so funny. Armisen, Brownstein, and Krisel get it. And there's nothing funnier than the truth, right. They just take these truths to the extremes, which is spurred on by the fact that everything is filmed in and around Portland. And adding to this, as Brownstein recently said on "Inside Portlandia," the characters they create are on "the tipping point of absurdity," and that's when the sketch begins.
On January 6th, the second season, this time brimming with 10 episodes, premiered as Armisen and Brownstein were in the midst of a sold out live tour of the show. The anticipation was great, as their show, which began as online short films under the moniker of Thunderant, not only struck a chord with those in the rainy, cloudy neighborhoods their show depicts, but with many others across the US. And with that the characters Bryce and Lisa of "Put a bird on it" fame were back, opening the show, but this time they were saying, "We can pickle that." Hilarious.
Portlandia is known for having both A-lister guest starts as well as cult classic type actors, and episode one did not disappoint as Andy Samberg of SNL appeared as a "Mixologist" winning over the heart of Carrie, the character, not the actress, with his "ginger based bourbon drink infused with honey, lemon, and charred ice." In turn she creates a mix tape for him called, "Mix Drinks." And of course this tale of true love doesn't end there, because it's just the beginning of the "absurdity" where Fred and Carrie travel to California in search of the lost "Mixologist" and are blinded by the sun, as their pale PNW skin just can't take the luminous sunlight.
The rest of the episode has some return characters like Kath and Dave, a couple that epitomizes the crunchiness of Oregon, but you know, taking it ten steps too far as they decide to travel down the Sandy River. Then there's Toni and Candace, owners of Women and Women First Books, a feminist book store, who are peeved when the air conditioner repair man asks where the "unit" is.   
With the amazingness of this first episode of Portlandia, I can't wait to see what other characters Armisen, Brownstein and Krisel have in store of us this season. If you haven't checked it out yet, you must, and see how Portlandia shows the rest of the world how "The Dream of the 90s is alive in Portland." For real.
Photo by Chris Hornbecker – © IFC
Tracy manages and writes for Liberating Working Moms: One Voice At A Time
This is an article written by one of the incredible members of the SheKnows Community. The SheKnows editorial team has not edited, vetted or endorsed the content of this post.
Want to join our amazing community and share your own story? Sign up here.