This article was written by a member of the SheKnows Community. It has not been edited, vetted or reviewed by our editorial staff, and any opinions expressed herein are the writer's own.
Election season can pose some tricky moments for parents of young children. Your instinct may be to shield your kids from the mudslinging of the campaign and the heated debates, but in my family, we watch political coverage together as as a way of teaching our son about our values—and civic engagement.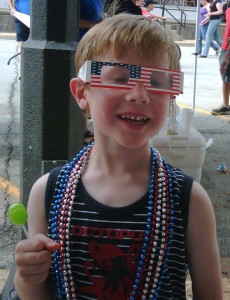 I let my son stay up and watch some of the convention speeches and presidential debate with me.
We tried watching on the networks and PBS, but my son quickly tired of the commentators.
"Who is that and why do they keep talking?" he said. Good question.
Are we not able to discern the themes and validity of the content for ourselves?
We clicked over to C-SPAN where the coverage ran uninterrupted. A much better fit for us. We got to see all of the speeches, videos, and debating, not just the parts the media decided we should see. And without the commentary.
We practice media literacy in our house.
We don't sit there and take whatever the media gives us. We talk back to the TV, radio, and internet. We control the feed. We turn it off if these "guests" overstep their bounds.
Admittedly, my house leans conservative though I remain independent of party affiliation. My child heard me speak to the screen in agreement quite a bit during the Republican National Convention speeches byChris Christie, Condoleezza RiceClint Eastwood, andMitt Romney.
He heard me speak to the screen during the Democratic National Convention and the debate, too. But I take care to be measured in my responses. To explain to my son as best I can why some citizens see things differently than his parents do and to reiterate our beliefs. To stress to him how imperative it is we respect all our countrymen and the office of the President, even if we disagree.
Children think in all-or-nothing terms sometimes.
I quickly corrected my son when he recently said, "I hate Obama."
"No," I said. "We don't hate President Obama; we just disagree with him. And we respect him as a person and as the President."
"But I hope Mitt Romney wins, Mom," he said.
At the end of this process, someone will win, and someone will lose. And there will be more lessons to teach. How to win and lose gracefully. How to stick with your values and beliefs regardless of the outcome.
The presidential election offers a chance for us to explain to our children what we believe and why. We get to show them the ropes of how we choose our elected officials. We have the chance to demonstrate to them wisdom and discernment. We're responsible for developing their citizenship.
It's up to us to plant the seeds of engagement that will influence the future of our country and culture long after we're gone.
Aimee Whetstine blogs at everyday epistle and Finding (Un)Common Ground.