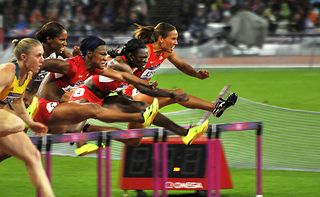 It pains me, when on a world stage, medalists in the Olympics bring fellow-athletes down—especially female athletes.  This is an historic year for women at the Olympics.  Every country has a female representative and the US women outnumber the men.  So why, when Kellie Wells, bronze medalist in the 100m hurdles, and Dawn Harper, silver medalist in the same event, were interviewed by NBC's Michelle Beadle, did they have to bring down Lolo Jones?  It wasn't just in their words, it was also in their attitudes (see interview here).
"I just felt as if I worked really hard to represent my country [in 2008] in the best way possible," Harper said, "and to come away with the gold medal, and to honestly seem as if, because [the media's] favorite didn't win all of sudden it's just like, 'Were going to push your story aside, and still gonna push this one.' That hurt. It did. It hurt my feelings.

"But I feel as if I showed I can deal with the pressure, I came back, and I think you kinda got to respect it a little bit now."

But if Harper's beef seems to be as much with the media's treatment of Jones as Jones herself, that wasn't the case for Wells.

"I think that, on the podium tonight, the three girls that earned their spot and they got their medals and they worked hard and did what they needed to do, prevailed," she said. "And that's all that really needs to be said."

"Boom!" Harper responded. "Just like that."
One could argue they are jealous of Lolo's media attention.  Who wouldn't be?  I'm jealous of Lolo Jones' media attention and more so, the pay checks that come with it.
However, at what cost does Lolo Jones gain this attention?
She grew up in poverty, sometimes homeless.  She had an absent, incarcerated father.  She's a two-time Olympian and a World-Indoor Champion--both of which take more work than most of us can even begin to imagine.  
This is the kicker--she's pretty.  The media loves pretty women.  However, rarely do we get to see beautiful women who are also inspiring  and courageous.
Do I wish Lolo would keep her clothes on for magazine photo shoots?  Yes.
Do I wish Lolo would not talk about her sexuality?  My answer is not quite as definitive on that one.  I wish we, as Americans in the 21st Century, wouldn't make such a big deal about a person's sexuality.
I can't imagine having to perform in the global arena of the Olympics surrounded by so much attention and controversy.  It's astounding that she qualified for her final and finished 4th.  It's even more astounding that this was a comeback Olympic performance after hitting hurdles and losing the gold in 2008.  It takes a lot of mental strength to overcome so, so much.
Yes, Dawn Harper and Kellie Wells both have stories of adversity, too.  And as a survivor of child sexual abuse, I was truly hoping Kellie Wells, fellow-survivor, would win the gold—for us.  But the bronze did not disappoint and I celebrated wildly in my living room.
However, it hurts me, you, them, and us when we bring each other down like Harper and Wells did in today's interview with Beadle.
It makes me think Harper and Wells do not understand the concept of timing in personal branding.  If I were a potential sponsor, after hearing today's interview, I would walk away from both of them.  And really, their negativity shines more light on Lolo--contrary to what they seem to desire.
It makes me wonder about how much pain these two accomplished women are still experiencing from the adversity in their past.
It makes me ache for how much pain they are causing.
"You don't have to blow out another's candle to make yours shine bright." ~unknown
Ladies, let's raise each other up, not bring each other down. 
Kimberly S. at Sperk*
photo credit: tomkellyphoto via photo pin cc
This is an article written by one of the incredible members of the SheKnows Community. The SheKnows editorial team has not edited, vetted or endorsed the content of this post.
Want to join our amazing community and share your own story? Sign up here.