This article was written by a member of the SheKnows Community. It has not been edited, vetted or reviewed by our editorial staff, and any opinions expressed herein are the writer's own.
Well the other day I was searching for something festive to whip up, when suddenly I knew that it was time to bake one for Nora. Known to most as one of the bright lights of Hollywood, in my mind she's always been that chick just a few years older than me who was actually a writer getting treated like an equal on the pages of Esquire magazine, way back in 1973....
Plus, when I read her hilariously pithy observations about the food culture she seemed so fond of there came the added assurance that a woman could still love something as domestic as cooking without necessarily aspiring to be the perfect housewife—which was, for instance, what Nora seemed to think was the real prize many of those contestants were after when she covered the Pillsbury Bake-off.
Meanwhile, as feminists in nesting mode worried about the connotations of being married to a house and started calling themselves homemakers in the hopeful spirit of compromise, a lot of us looked to the incomparable Ms. E. for inspiration, the finest in entertainment, and some really great recipes. She says she got this one from Amelia, who ruled the kitchen of her childhood, and who apparently got it off the back of the Philadelphia Cream Cheese package.
Enjoy!
Nora's/Amelia's/Philly's Cheesecake
"Make a nice graham cracker crust and pack it into a 9-inch pie pan...."
The Crust:
1 ½ cups graham cracker crumbs
½ cup granulated sugar
6 tablespoons butter
Now you can buy your crackers pre-pulverized, or you can let your food processor do it for you; while of course it can also be done by hand if you have the patience of Job and a good rolling pin.
Melt the butter in a medium saucepan.
Remove from the heat, mix in the sugar, and then add the crumbs.
Gently but firmly press this mixture onto the bottom and sides of the aforementioned 9-inch pie plate, while this is the trickiest part of the recipe. Start with the bottom, work from the center out, use both hands, keep turning the pie plate round and round, and then even it all out....
Set your pie shell aside.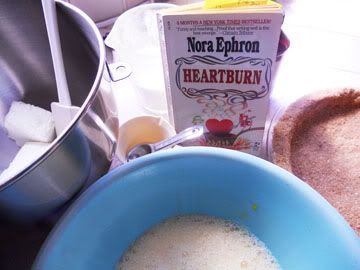 The Filling:
12 ounces cream cheese
1 cup sugar
1 teaspoon vanilla
4 eggs
Preheat your oven to 350 degrees.
Beat the eggs well and set aside.
Mix the cream cheese, sugar, and vanilla together on medium speed until slightly fluffy. Then gradually add the eggs in a steady stream—beating well until smooth. Beginners should remember to stop and scrape the bowl a few times of course, while the key to avoiding pesky little lumps is to add the eggs nice and slow....
Pour this filling into the pie shell and bake that cheesecake for 45 minutes.
Remove it from the oven and cool it down for 10 minutes.
The Topping:
2 cups sour cream
½ cup sugar
Mix together the sour cream and sugar.
Gently spread this mixture over the top of your cheesecake and then bake it for 10 minutes more.
Cool and refrigerate for several hours before serving.
Meanwhile, content yourself and any lingering familiars with the leftover graham crackers—most especially sweet children who might just be regarding this weird adult idea of a dessert made out of cheese with a great deal of skepticism....
Thank you Nora!
While if you've enjoyed this little confection, you might also care to download a free copy of my cookbook, or use the following codes for some free fiction.  Ophelia: YE49W  Vortex: DJ38S  Norman: DJ87E