It was my friend's first time in a bikini in 13 years. She was on the beach in Alberta, Canada with her two kids, relaxing under the sun when three people began to taunt her.
"It started with, 'oh my god, look. Look! That's f—— gross!'" Tanis Jex-Blake wrote in a private Facebook group we share. She opened her eyes to see what the commotion was to find two guys and a girl standing above her. They were talking about her body and specifically the stretch marks she's earned for giving birth to five amazing kids.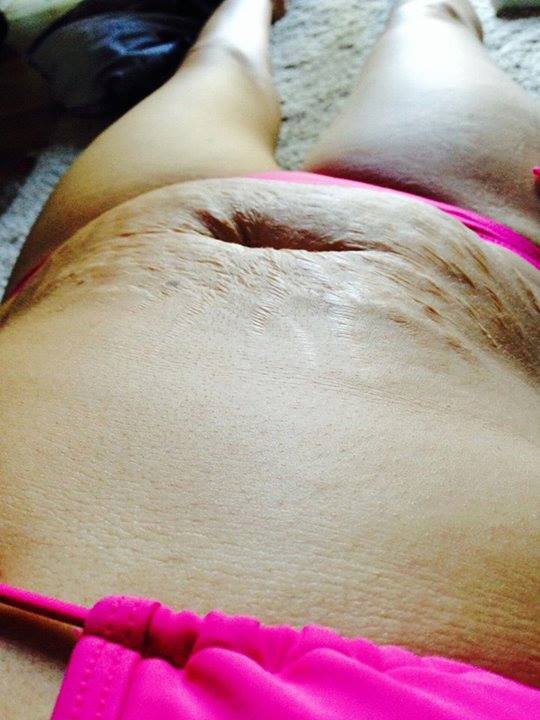 My friend, a mom of 5, was taunted for wearing a bikini at the beach.
Needless to say, my friend was crushed. Hours later she turned to our Facebook group that consists of moms who all had due dates of August 2007. She told us what happened, and shared her plan to post about it on Facebook.
Naturally, we were outraged. Not only that these three idiots hurt our friend, but because their behavior was disgusting. It showed a lack of knowledge and respect for women and our bodies and all of their beautiful shapes and sizes. How would they feel if someone did that to their mom? Or their sister?
It's ridiculous that we're so used to seeing picture perfect bodies on TV, the Internet and in magazines that we forget what real women's bodies look like. Not to mention, thanks to photo editing, makeup and other tricks those women don't even look like what's depicted in the final product.
We're starting to see more images in the public eye that reflect real women's bodies. But we need more. Not to mention with all the hoopla over Hollywood's latest baby bump, we need to celebrate all women whose bellies have been stretched to basically be studio apartments and whose breasts have nourished the previous tenants. It's a beautiful reality of life.
Since Tanis put up her post,  she's been overwhelmed by all of the positive feedback.
"I think it's resonating with so many people, because all of us have been judged at some point in life, with by ourselves, people we know, or strangers," she said. "And I'm sure every single person who has ever been bullied has thought 'I should have said this, or I should have said that.' Well, I did, albeit after the fact. Also, I'm just your average person, my body isn't perfect, but it has done some amazing things."
She's even decided to team up with some other moms in her area to host a post-baby bikini sit-in to encourage moms to be proud of their bodies. I'm certainly proud of my girl. Tanis, keep on, keepin' on.
Below is her original post:
"This is an open letter to the 2 guys and 1 girl who decided to skip work today in Sherwood Park where they were building a house, but instead decided to come to Alberta Beach to relax in the sun, enjoy the water and some beers.

I'm sorry if my first attempt at sun tanning in a bikini in public in 13 years "grossed you out". I'm sorry that my stomach isn't flat and tight. I'm sorry that my belly is covered in stretch marks. I'm NOT sorry that my body has housed, grown, protected, birthed and nurtured FIVE fabulous, healthy, intelligent and wonderful human beings. I'm sorry if my 33 year old, 125 lb body offended you so much that you felt that pointing, laughing, and pretending to kick me. But I'll have you know that as I looked at your 'perfect' young bodies, I could only think to myself "what great and amazing feat has YOUR body done?".

I'll also have you know that I held my head high, unflinching as you mocked me, pretending that what you said and did had no effect on me; but I cried in the car on the drive home. Thanks for ruining my day. It's people like you who make this world an ugly hateful place. I can't help but feel sorry for the women who will one day bear your children and become "gross" in your eyes as their bodies change during the miraculous process of pregnancy. I can only hope that one day you'll realize that my battle scars are something to be proud of, not ashamed of."

 
This is an article written by a member of the SheKnows Community. The SheKnows editorial team has not edited, vetted or endorsed the content of this post.
Want to join our amazing community and share your own story? Sign up here.