Let's give you the basics to get the debate going -- because it is both evergreen and ever-important, especially for women who seek political office (or any visible position of leadership). Here's Newsweek's cover featuring Michele Bachmann this week:
Reaction to what's been dubbed the "crazy eyes cover" so far has ranged from Feministing slamming it, with citations to two well-known female conservative bloggers who also appear to be slamming it, to Tucker Carlson's The Daily Caller helping the National Organization of Women's denunciation of the cover go viral (though credit for NOW's statement comes via reporting by ABC's Matt Jaffe).
To say that this incident has struck a common chord across the political ideological spectrum of online pundits would be an understatement. Bachmann herself is choosing to stay focused on staying on message (as a former candidate myself, let me tell you, that is some of the best advice anyone can ever get and practice).
Although CNN extends its coverage of this topic to include asking whether Republican women are unfairly criticized because they're women, I would respectfully ask everyone to recall The New Republic's cover featuring Hillary Clinton in May 2008: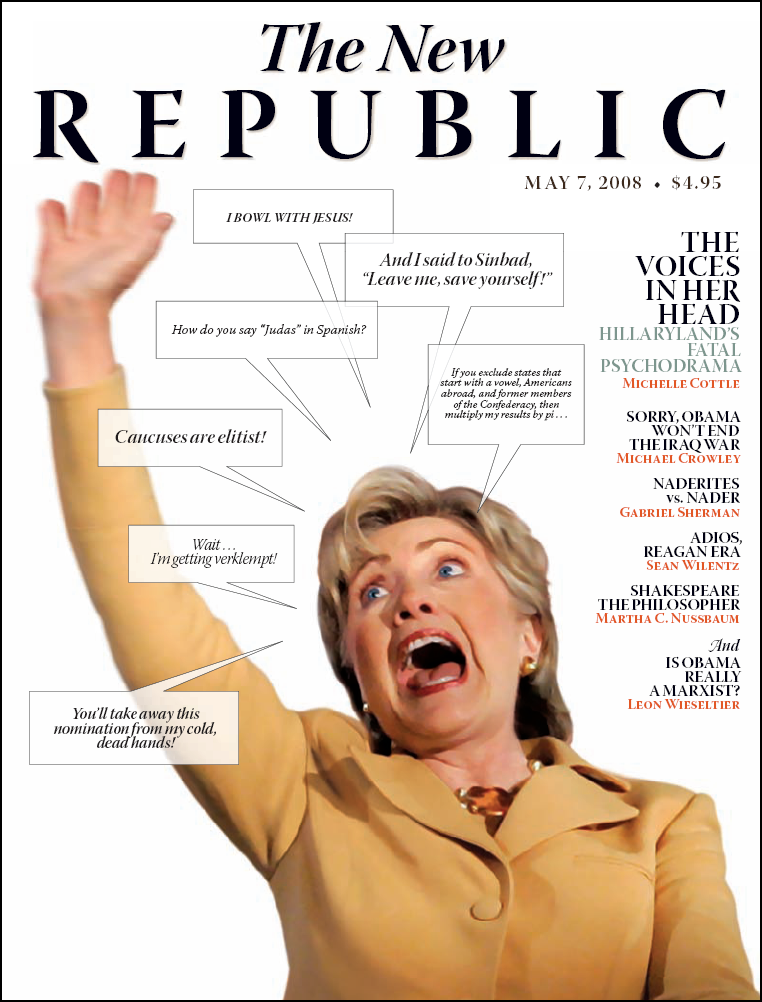 Sexism Sells But We're Not Buying It is another reminder of how wretched the media was to Clinton while this video is an homage to the specifically sexist treatment of Sarah Palin.
For me, attacks based on gender stereotyping are wrong and should be off.limits.period. Editorial decisions that result in the deployment of content -- text or images -- that relies on that gender stereotyping to get attention are bad, wrong and civically irresponsible decisions. We say we want to hold our politicians to higher standards? Great. But we have got to continue to hold the media -- all of us -- to higher standards too. I've been writing about this for about five years now, and that's nothing compared to many others.
Where's the line when it comes to a cover like Newsweek's? Who should be drawing that line, and how do we enforce it or change it if we don't like it?
Start by checking out the other photos Newsweek could have chosen and Tina Brown's defense of her magazine's final decision.
More fodder:
From Rene Seyler's Good Enough Mother: The GEM Debate: Michelle Bachmann's Newsweek Cover – Fair Game Or Cheap Shot?
The Facebook-based debate on the wall of Pulitzer Prize-winning columnist Connie Schultz who is married to a U.S. Senator and wrote a book called, "...And His Lovely Wife"
Mediaite asks whether Newsbuster's purpose in its reporting of the cover, "...was, in fact, to start a national debate about how crazy Michele Bachmann looks."
In The Arena: Jill Miller Zimon, Pepper Pike City Council Member
This is an article written by a member of the SheKnows Community. The SheKnows editorial team has not edited, vetted or endorsed the content of this post.
Want to join our amazing community and share your own story? Sign up here.