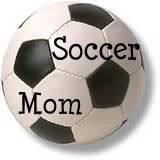 I try as hard as I can to teach my children to be kind to people.  To be nice to others, even if they don't particularly like them.  To demonstrate good sportsmanship. 
I just wish that all the parents out there, and by extension, all the coaches, felt the same way.
I wish that people wouldn't get these illusions in their heads that their child is going to be the next starting pitcher in the major leagues or play on an Olympic soccer team when they are 3 years old.
I'm all for fostering skills, encouraging the kids to try hard and do their best, to work towards goals and be competitive.  But there is a reason you aren't supposed to keep score when 5 year olds are on a playing field.
They are still learning.
And they are still little kids. 
I've written before about my daughter's soccer team.  They are good.  Really good.  But it is a by-product of lots of hard work, a team that has stayed together for years and strong coaching.  They are as good as they are through hard work over the course of several seasons.  Sure, there are a few kids on the team that were born athletes, but not all of them were. 
Our team didn't get to be good by skirting the rules.  They didn't get to be good by pushing past competition into aggression. 
Some teams do that.  Some coaches recruit players from around the league, even at this age.  Some parents encourage their kids to shove and push and slide tackle opponents.  Ashley had her ponytail blatantly pulled on the field last season, and she was yanked clear to the ground. 
I didn't even think that they'd be issuing red cards to 7 year olds.
Or that there would be a reason to.
Sadly, there is.
Karma, though, is a bitch.  And she is fun to watch.
The team with the recruited players and the ponytail pullers, our opponent this week.
At the end of the field, wearing a bright orange jersey and a grudge, my little girl. 
She decided she wants to be goalie.  I was a little hesitant at first since she tried last year and wasn't great at it.  In the interim, though, something clicked.
She is a goalie.  And she is amazing.
And the team that destroyed us last year twice, the one with the recruited players and rule breaking ponytail pullers? 
They lost. 
My little girl made sure of that.
Karma?  Yeah, she's on our team.  ;)
First published on my blog here: http://debiehive.blogspot.com/2011/03/watching-karma.html
This is an article written by one of the incredible members of the SheKnows Community. The SheKnows editorial team has not edited, vetted or endorsed the content of this post.
Want to join our amazing community and share your own story? Sign up here.