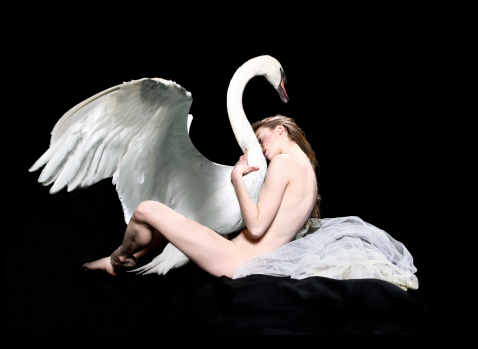 You know when you have those apocalyptic days that make you feel like you're in Terry Gilliam's Brazil? Check out this article the Evening Standard ran on Friday about Metropolitan Police insisting a London's Scream gallery take down one of Derrick Santini's 'Metamorphosis' images on the grounds that it condoned bestiality. The image depicts the Greek myth of Leda and the Swan. Here's what bothers me about this incident.
1. Animals having sex with people is not illegal in the UK (It's the reverse that is not legal. Crazy, right?), so this image depicts a legal act. Second, the image can't even be classified as obscene. This photograph is clearly a work of art: in a gallery context and acknowledged by the artistic community as a work of art. The police, having received no complaints about the artwork, were using their muscle to enforce their own point of view. That is shameful and frightening. Where is the line for this kind of bullying?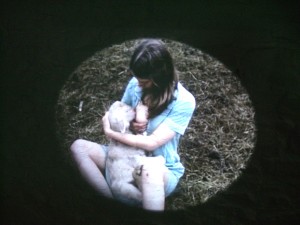 Samantha Sweeting's images of her breastfeeding a lamb (a variation of the image above) caused quite a stir among the residents near the high-end liquor store that featured her as part of their 'Twelve Days of Christmas' window display. She was a 'maid-a-milking'. Now, I'm a huge fan of her work, but I do understand that the shop responded to the complaints by removing the images.
Outside of an artistic context viewing human-animal breastfeeding is more complicated. As art, one understands that it asks us to explore our feelings of warmth, disgust, anything in relation to the image. And indeed to consider how beauty impacts how we view things. Her image, as you can see, is lovely. It appears innocent. In a shop window ringing in the holiday season...well, I understand why they took it down. Corporate identity, customer satisfaction and all that jazz.
2. Have a read of this section of Louise Jury's article:
The final day of the exhibition was on Saturday and the gallery was taking down the artworks when police arrived. Ms Mehta pointed out that for prim Victorians, the myth of how Zeus, in the form of a swan, raped young Leda and produced Helen of Troy, was an acceptable form of erotica. But the explanation that the picture was based on a legend that had inspired countless generations of artists failed to cut the mustard with the police, she said. "They didn't know anything about the myth.
They stood there and didn't leave until we took the piece down. They asked us whether we had had complaints and we said quite the contrary. Lots of people were intrigued by it."
So, the police bully a gallery into taking down an image depicting a legal act. They display ignorance of an iconic Greek myth. After an art expert explains the context of the piece, it has no bearing on their demand. Forget a historical precedent of this myth in the wider cultural imagination. The police don't want to see or hear it. In London, one of the world's great culture capitals, can we really be pushed around by some police officers who don't like the picture they're looking at and that has been well-received by the general public? This incident makes it seem like law enforcement feels above the law and believes that their work is removed from creative culture and the popular imagination.
Of course, art and police work  don't seem like natural bedfellows, but shouldn't the Law at the very least understand the culture in which they operate? The police officers involved in this incident are not street-wise to their beat. It's also never nice being reminded that in the UK art and culture are considered by so many to be an elitist domain. That culture is non-essential. That art is only for the privileged...according to some. Through the arts, we record and make sense of our society. It is indispensable. Any employee of the state should have basic cultural literacy, high and low.
Jury writes: It is understood that the incident was not recorded by police as a crime.
No, of course not.
Anyway, Santini's show 'Metamorphosis' is made of two bodies of work, one explores the story of 'Leda and the Swan' and the other an old folk verse 'The Magpie's Rhyme'. When I looked at the 'Leda and the Swan' series on his website I was thrilled, thrilled to see it is a lenticular image. Nothing like a moving image to make me feel giddy. Santini's images in this series and others are deeply erotic and tantalizing. To see these in motion, click here and then visit 'Lenticular Artworks'.
This is an article written by a member of the SheKnows Community. The SheKnows editorial team has not edited, vetted or endorsed the content of this post.
Want to join our amazing community and share your own story? Sign up here.