Our colleagues at our local Poison Control Center put together a list of iPhone apps that can help parents gain quick access to information about chemicals in the event of an exposure or potential exposure to chemicals.  Some of the apps are free and some require a fee, but helpful to know what is available, and some are available for Android systems.  Check out our website for more information on kids and chemical safety at http://kidschemicalsafety.org.  Follow us on twitter @KidsChemSafety or like us on Facebook.
1. PoisonHelp
 (free app)
This application will connect users with their local poison center with just a click of a button. By clicking on the logo, users will have free, confidential access to a medical expert who can answer questions about poisons or help users treat a poison exposure. Users will also receive tips on how to prevent a poisoning. Poison centers are open 24 hours a day, 7 days a week and 365 days a year.
 2. Poisons & Toxins ($2.99)
This app discusses the most important topics in poisoning, toxicology, and environmental health and is ideal for all medical professionals, medical residents and interns, nurses, medical students, and lay people who just want to learn about poisoning, toxicology, and environmental health. Topics include: Anthrax, Arsenic, Asbestos, Carbon monoxide, Lead poisoning, Pesticides, Air pollution, Water pollution, Radiation exposure, and many more.
 3. Emergency Toxicology (free app)
This app serves as an educational resource for medical students, residents, and physicians. It is intended for medical education purposes. Topic includes: The general approach to a poisoned patient, common toxidromes, frequently encountered exposures, antidotes, common pediatric exposures, toxic exposures in pregnancy.
 4. Chemical Safety Data Sheet (free app)
This application displays International Chemical Safety Cards (ICSC) produced by the United Nations Environmental Program (UNEP), the International Labor Office (ILO), and the World Health Organization(WHO). ICSCs summarize essential health and safety information on chemicals for their use by workers in factories, agriculture, construction and other work places. Features include: fully indexed and searchable chemical list by Name, CAS #, or RTECS #, and saved history of previously viewed chemicals.
 5. Drugs and Medicines ($0.99)
A glossary of common drugs and medications that are typically classified as poisons. This reference includes publicly available information on drugs and poisons and what you should do in case of ingestion.
 6. Toxicology ($0.99)
In this encyclopedia you will find all the information about toxicology as a scientific discipline. The topics covered include: types, antidotes, solutions and many more.
 7. Poisoning and Drug Overdose ($69.99)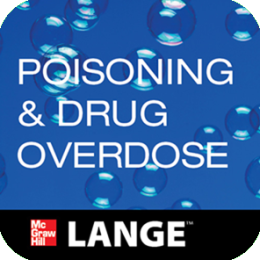 This is an instant guide you can turn to for on-the-spot treatment of poisoning and drug overdose. Divided into four sections: Section 1 covers initial emergency management, including treatment of complications; physical and laboratory diagnosis; and  decontamination and enhanced elimination procedures. Section 2 provides detailed information on 150 common drugs and poisons. Section 3 describes the use of antidotes and therapeutic drugs to treat poisoning. Section 4 describes the medical management of chemical and occupational exposures, with a table of more than 500 industrial chemicals.
This is an article written by a member of the SheKnows Community. The SheKnows editorial team has not edited, vetted or endorsed the content of this post.
Want to join our amazing community and share your own story? Sign up here.