This article was written by a member of the SheKnows Community. It has not been edited, vetted or reviewed by our editorial staff, and any opinions expressed herein are the writer's own.
Today I'm interviewing Kristin Kuhns Alexandre, author of the romantic thriller, Gem City Gypsy.  Kristin was raised in Dayton, Ohio where she worked as a feature columnist for The Dayton Journal Herald and the Kettering Oakwood Times. She has written two previous books: Nuncio and the Gypsy Girl in the Gilded Age,  a graphic novel that was featured at the 2011 NY City Comic Con; and Find a Great Guy: Now and Forever.  She is also co-founder of Earth Day 1970 and worked on staff with House Beautiful Magazine and as a contributor to Town & Country Magazine, The Christian Science Monitor and The Daily News. Her celebrity luncheon series for the Chairman of Ammirati & Puris Advertising at The New York Yacht Club was acclaimed, and she has also worked as a co-host and producer of Enough Is Enough a syndicated talk show for WLIW-TV, a PBS affiliate in NYC. Alexandre has worked as a publicist for The Economic Development Association of Puerto Rico and Champion International U.S. Plywood. She is a NJ Board Member of The Humane Society of America and resides in Delray Beach, Fl. and Nantucket , Ma. with her husband DeWitt.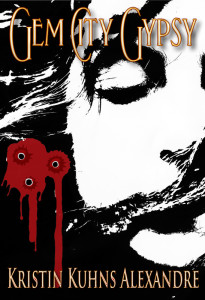 Can you tell us about your new book, GemCity Gypsy?
My book is called "Gem City Gypsy" and is about a beautiful young girl from Dayton, Ohio named Neci Stans. She lives in the pre World One period and has survived the sinking of the Lusitania and the murder of her employer, Lord Pool .She steals his fortune and heads back to Dayton to recreate her life. There are complications as her old flame, Ezra Crawford, bumps into her and another very evil man is out for her as well.
How did you come up with the idea to write your book?
When I buried my parents in Dayton, Ohio at a beautiful place named Woodlawn I noticed a huge memorial for a gypsy Queen. Then I started researching and found that gypsies were much loved in my hometown. The car took away their livelihood.
Can you describe your typical writing day?
I generally write for four hours a day in the middle of the day.
How long did you take to write your book?
Five months.
How did you get it published?
First I found an editor and then a small publishing house. It's hard.
Now's your chance to talk to your readers.  What would you like to tell them?
I love my story and am sorry it ends so abruptly. My sequel is almost finished and tells what happens to Neci. She does survive although the book makes that unclear. The sequel takes place years later.
How can we buy your book?
Amazon and Barnes and Noble.

http://www.amazon.com/City-Gypsy-Kristin-Kuhns-Alexandre/dp/1940016029
How can we find you online?
Kristinalexandre.com

Gemcitygypsy.com