I read a "cute" little blog piece today about our children's annoying behaviors, with "cute" little caption that read this:  Keep Calm and then Blow Your Brains Out. 
But six years ago today, my brother did "blow his brains out."  Or so we think.  He's been missing for six years today.  This hour six years ago?  He'd just bought a shotgun.  His first gun purchase ever.  He'd tried to buy a handgun, but when learning of the three day wait period, bought a shotgun instead.  Then he walked away. 
We knew he was depressed.  We knew it was real.  But we believed him that it wasn't really "that bad" and that he'd be okay.
We were wrong. He had kept calm (on the outside), and then Blown His Brains Out (we believe). 
It's been six years, and we've never found his remains.  But oh how we've searched.  We've searched for him,and we've searched for others hoping to bring answers to other families.  We've prayed and begged for answers.
But we have none yet, besides the answer that depression led him to an act that broke out hearts.
So excuse me fellow blogger, but "Keep Calm and then Blow Your Brains Out" doesn't have quite the cute ring to me that it does to you. 
Just like "what a retard" or "that's gay" or other phrases that people think are okay, but truly hurt others to the core, jokingly referring to suicide is not okay. 
....  Read more at 'Losing Austin, Finding Myself'
Learn more about my brother at 'Find Austin Davis'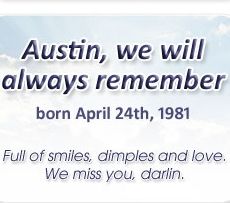 My Mom's Letter to My Brother Today:
Hi Son,
How can it be that 6 years have passed since I sat with you at Drew's birthday party, then later sat and talked into the night……I miss you. How did I not know that time counted in hours would change every aspect of my life, leaving a hole in my heart that won't heal? The phone call from your sister telling me you couldn't be found should we call the police? Yes…I'm on my way to you, hours of driving with thoughts of finding you and asking why did you worry us, what were you thinking? Me determined to find you and ask, knowing that together we could figure out any problem, we could find solutions…..never thinking that six years later I'd still be searching, wanting so badly to bring you home. I think you know, you know that I'm looking for you, that I won't quit, that even as I search for others that need to be brought Home you are there with me. I've wondered over the years would you approve, and God gifted me with peace that allowed me to know that you do, and some days I can feel a special warmth that lets me know you're close, and on those days I can see your smile, and hear your "oh mom" as you laugh, cause I should know you would. I knew your heart, but didn't always understand your pain.
I miss you,
Mom
This is an article written by one of the incredible members of the SheKnows Community. The SheKnows editorial team has not edited, vetted or endorsed the content of this post.
Want to join our amazing community and share your own story? Sign up here.