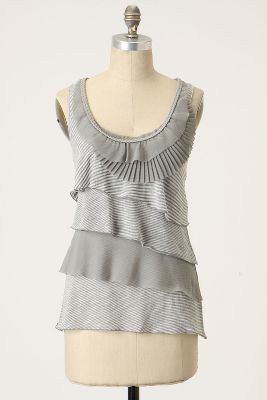 I look at the embellished t-shirts and cardigans at Anthropologie, J. Crew, and even Old Navy -- since last year, these retailers have featured thin, flimsy items with embellishments for $40-$70. I wonder who would buy these items, since looking at them shows that the work involved is quite simple. I'm obviously not the only person thinking these embellishments are easy to do.
My next day off, I will be using the Flowing Tiers from Anthropologie (shown above) as inspiration for a new spring/summer tank. I'll need several of these when I hit BlogHer '10 in NYC in August (oh, the potential heat and humidity!):
Start with a basic tank top slightly larger than you normally wear. The stitching on this top will take the tank in a bit.
Cut strips from other "recycled" t-shirt jersey. Make strips about 6" wide and cut them on the bias. Optionally, serge one of the long edges. Find pleated ribbons or scraps of chiffon and organza to use as trim.
Starting near the bottom of the tank, layer the strips of jersey and chiffon, wrapping them around the base tank. For a more finished look, when you know where each layer will go, pin and seam the short edges before attaching each layer.
Add one or more layers of the chiffon or organza trim up near the face.
This design uses striped jersey to finish the back. I will just continue the layers up the back, then finish the arm holes with small strips of bias-cut jersey.
I'm not sure if I'll add a gather mid-back, though this would be a great way of making sure the tank fits me well.
This tank is not truly finished at the neckline -- the organza is left raw-edged, and a braided trim is used to act as a finishing touch. I will wrap another scrap of jersey over the raw edges and stitch it down like I do at the arm opening.
What I like about this design: The striped jersey is carried up to make one shoulder, and the pleats counterbalance those stripes on the other side. The angled tiers create a wonderful line and offer design opportunities to disguise almost any figure challenge. Both knit cotton jersey and knit organza or chiffon will not ravel, meaning I can choose to leave the exposed edge raw. This will be fine as long as I hand wash it.
Ways to make this design your own:
Start with a larger t-shirt to create a different neckline shape. You can cut one sleeve of cotton off the shirt and add one sleeve of light organza; make it more a boat-neck tank; or give it more of a crewneck/exposed shoulder look.
If you don't have narrow striped fabric, stitch stripes onto a piece of jersey to create a unique striped fabric. This would a great time to play with any decorative stitches your machine has.
Play with color. Rather than making this monochromatic, choose two or three colors to use. A plain white tank with red and blue layers for all the summer patriotic parties, perhaps?
Fringe one or more of the layers for even more movement, or find a fringed trim to slip in.
Add a beaded trim at the neck instead of the braid.
Continue the layers even lower than the hem of the tank, making this a tunic or even a short summer dress. To accomplish this, I'd cut the layers wider (say 10"), fold each layer over at the 6" mark to attach under the layer above it, and use that extra 4" at the place to add the next layer to go below.
In this Ann Taylor Loft cotton cardigan, the designer took very long strips of torn cotton fabric, folded them in half, and stitched them in tight rounds to the cardigan, creating the sense of lush roses. I'd worry about those strips flattening during wear, or ravelling badly when washed. However, I'd be willing to try a similar technique with strips of organza ribbon. To get these rounds sewn closely enough, however, this work should be hand-stitched.
Adventures in Dressmaking's Suzannah took two gray t-shirts from her closet to refashion a shirt similar to Anthropologie's Winding Road Tank. This appears at One Pearl Button as part of a blog-tutorial swap.
This lovely and versatile tank is all cotton and $48 (which is not all that much in Anthrodollars, but is a heck of a lot to pay for a tank). And honestly, it looked pretty easy to copy, so I went for it!

I used a $5 tank from Old Navy (they very often have a $5 special on all their tees) and a tired old long-sleeved lightweight tee from Gap. It had shrunk, and I had expanded, since I bought it, plus it got washed with something purple that blend, and ... long story short, it was not wearable. I had no problem cutting it up!
My advice on this tutorial: Rather than simply following the line that Anthropologie uses, adjust where the lines fall to emphasize your own assets:
Move the lines more densely over a bust that may be proportionally too small.
Use the lines to frame your face and draw the eye away from a slightly too thick waist.
Or use the lines to echo a great long waist -- starting at lower hem, wandering up to a shoulder, around the back of the neck and down the other side.
Wrap the lines around the tank to show off a great back or cute derriere.
However, remember to mark where your nipples hit on the shirt, and avoid this area. Lift all lines travelling across the bust slightly above the nipples to eliminate that "bull's eye" effect.
Back at Adventures in Dressmaking, Suzannah regularly takes on recycled and upcycled t-shirt design projects, so spend some time wandering through her archives. I totally love her Stripes Turned Girly tank design.
Another crafter inspired by the current fashions in stores, Smashed Peas and Carrots, decided to decorate a plain t-shirt with simple fabric flower embellishments.
Last spring, TipJunkie published a list of good fabric flower tutorials that should help you out in dressing up your own t-shirts.
So what t-shirt embellishments are you thinking of tackling? Which ones would like some tips and guidance with?
Photo credits: Tank from Anthropologie.  Detail of Ann Taylor Loft cardigan from my own flickrstream.