Go For The Gowns, Mrs. Obama!
Dear Mrs. Obama,
(Girlfriend!!! You're going to need ballgowns for the days surrounding the Inauguration! That's right! Gowns!! Was there anything ever more fun than going into a dressing room with an armful, and trying on gowns? Whoo hooo!!).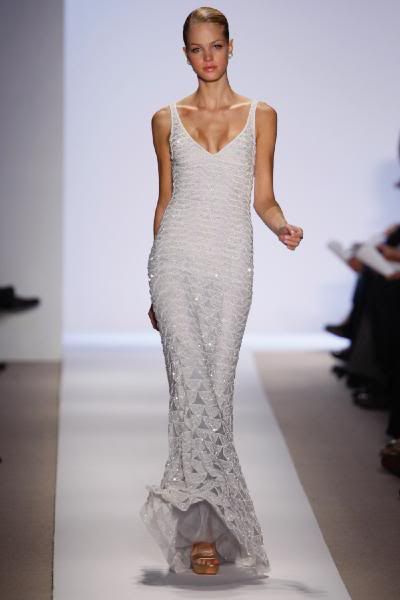 First of all, let me say that we have
never had two better dressed candidate's wives out on the campaign
trail. Cindy McCain looked great in a gold suit at the Arizona Biltmore
as her husband gave the most gracious concession speech ever.
Now
that I've gotten my non-literary shouting out of the way, stylists from
are in a hot bid to be your dresser for the parties surrounding the
inauguration. This is the most exciting day for fashion since ....damn, girlfriend... I can't remember one! But
for your consideration, I've gone through the NYC and LA fashion Spring
2009 shows and have pulled out three designers for your consideration.
I looked for outfits that had a bit of color, and also provided the
fitted bodice or emphasis on those fine collar bones of yours. I've
stayed away from black, since I figure thousands of women will be
wearing it already. I have mixed feelings about red. You wear it well,
but in so many ways the colors red and blue have been worn so many
times in the past, I'd like to see you branch out a bit.
There
are cocktail dresses, and the one nod to pants is the two-piece long
tunic with the raw silk capris. If you want to play with the look, wear
a silver or gold fitted tank under it.
The white beaded gown by
Badgley Mischka is a nod to the historic gown worn by Nancy Reagan
designed by James Galanos. Kevan Hall, the master of the red carpet
look, has a collection inspired by Old Hollywood and the late designer Adrian. Any one of these will cause
Mr. Obama to fall down in the hall way when he sees you turn the
corner. Of course, we will arrange for the Secret Service to be
stationed around him should this happen. Since you're one of the few
who can wear green, I've included one by Carmen Marc Valvo --a
breathtaking color that I'm sure no one else will be wearing.
All in all,
you're going to be fun to dress. When I think of fashionable first
ladies (at least in my generation), two hit top marks in terms of
influence, consistency and originality. They are Jacqueline Kennedy,
Nancy Reagan, and the third will be you!
Photo above: Courtesy of Mercedes Benz Fashion Week, Gowns By Carmen Marc Valvo, Kevan Hall and Badgley Mischka. For more photos please go to my blog, The Literary Fashionista
This is an article written by one of the incredible members of the SheKnows Community. The SheKnows editorial team has not edited, vetted or endorsed the content of this post.
Want to join our amazing community and share your own story? Sign up here.